Public Safety Minister Marco Mendicino and senior RCMP officers are defending the national police force's years-long and previously undisclosed use of spyware—capable of remotely accessing cell phone and computer microphones, cameras and other data—as part of dozens of major investigations.
Over the course of hours of witness testimony at the House of Commons Access to Information, Privacy and Ethics Committee, a series of notable disclosures were made on Monday about the RCMP's use of "on-device investigation tools" or ODITs.
Specifically, it was revealed that the amount of years and number of investigations in which these techniques have been deployed expanded beyond what had previously been reported to Parliament, and that to date the RCMP has not consulted with Canada's privacy commissioner about its use of spyware to essentially hack into electronic devices.
"ODITs are used extremely rare[ly] and in limited cases. Their use is always targeted, it's always time limited, and it's never to conduct unwarranted and, or mass surveillance. These tools are not used in secret… and the evidence collected, including how it was collected, is subject to disclosure and court scrutiny," RCMP Deputy Commissioner for Specialized Policing Services Bryan Larkin told MPs, insisting that the RCMP's use of spyware is entirely within the law.
"The amount and type of data collected is determined on a case-by-case basis and in accordance with strict terms and conditions," Larkin said, explaining how the police force "covertly" installs a computer program on suspects' devices.
The committee struck up the study to determine which tools the RCMP uses, as well as the terms and conditions of using this software, after documents tabled in the House of Commons in June shed new light on the police force's installation of spyware to conduct surveillance and collect data from digital devices.
"Police sometimes need to use advanced technology-based capabilities to address investigative barriers such as those caused by encryption," read part of the RCMP's submission to the House of Commons. The agency also said at the time that these "on-device investigate [sic] tools" were used 10 times between 2018-2022, and that "in every case, a judicial authorization was obtained" before the tools were deployed.
In a subsequent disclosure to the committee, RCMP Commissioner Brenda Lucki confirmed that the national police force has actually used this on-device technology in 32 investigations to target 49 devices since 2017.
Lucki also provided a list of the types of investigations the RCMP has used this technology for, according to Liberal MP and committee member Lisa Hepfner who read out her response during Monday's hearing, naming terrorism, kidnapping, drug trafficking, and murder as examples.
The information evolved further Monday afternoon, when a senior RCMP officer suggested to MPs that the RCMP has actually used technology with similar capabilities for two decades.
"I'm not aware of where all the technology comes from that's utilized here, but I can say I have a long standing history in this and back in the days from 2002 to 2015. It was all Canadian technology that we were utilizing," said RCMP Assistant Commissioner Mark Flynn.
"We have never utilized this tool without prior judicial authorization. However, having said that, if a situation were to arise that required it, there are provisions that allow us in certain designated individuals to utilize this type of tool for the interception of communications in emergency situations, but I am not aware of any situation where that has been done," Flynn said.
"And, the mere practicality of deploying this type of tool and technique would take it beyond the time period under which such an authorization would be valid."
SOFTWARE IS NOT PEGASUS: MENDICINO
Appearing just prior to the senior RCMP officials, Mendicino said that he's confident that the RCMP's use of software to conduct surveillance and collect data as part of its investigations has been limited by the law to only be permitted in "the most serious offences."
"There are stringent requirements in the Criminal Code that require accountability, including what facts the RCMP will be relying on prior to judicial authorization of this sort of technique. There are other safeguards that ensure that only designated agents put those applications to the court," he said during a hearing as part of its special summer study on the subject.
Mendicino said the kind of spyware tools under scrutiny by the committee are considered an "investigative necessity," only pursued as a last resort. He said in seeking court approval to use these tools, the RCMP has to "strike the balance of ensuring that the state has the tools that it is necessary to protect the security and safety of all Canadians, while at the same time upholding people's Charter rights."
While declining to offer many details about specifically what software is being used, citing "the necessity to safeguard the ability to effectively use on-device investigative tools," the government confirmed that it is not Pegasus.
The controversial spyware software developed by Israeli firm NSO Group has raised alarm bells internationally, after it was discovered to be used by governments in several countries to hack phones and spy on politicians, journalists, businesspeople and human rights activists.
"I want to be clear with the members of the committee that the Pegasus technoloy is not used by the RCMP," said the public safety minister, suggesting the federal government has forbid the use of this specific software.
Mendicino also said Monday that the tools were not used during the period of time in which the Emergencies Act was enacted in response to the "Freedom Convoy" protests and blockades earlier this year.
'WE'RE IN A REACTIVE MODE': COMMISSIONER
Prior to Mendicino's testimony, Canada's privacy commissioner testified before the committee, seeking to make his case that the belated disclosure of using these tools is a clear example of why Canada's Privacy Act needs updating.
"The Privacy Act does not require the RCMP or any government institution to prepare privacy impact assessments… for my consideration, but the Treasury Board requires this in its policies. I hope to see this included as a binding legal obligation in a modernized version of the Privacy Act," Commissioner Phillip Dufresne told the committee on Monday.
The Office of the Privacy Commissioner of Canada has for years been advocating for Canada's privacy laws to be updated in several respects.
On Monday, the commissioner said it should become a legal obligation for government departments and agencies such as the RCMP to present a pre-emptive privacy assessment of any new tools, suggesting doing so would allow the commissioner to provide meaningful input, while being mindful of confidentiality concerns, before they are put into use.
In this instance, the commissioner said that the RCMP did begin a privacy impact assessment about the spyware in 2021, years after it was first put into use.
"We see situations like this one, where this is done very late, after the tools have been used for some time. So we're not in a position where we can address or prevent, we're in a reactive mode. And our advice and recommendation, my hope is that this be made a legal obligation in the Privacy Act, because then there would be hopefully, a more timely compliance with this requirement," Dufresne said.
"It's not about choosing one between public interest and privacy of Canadians, but these checks and evaluations should be done before the fact and it should not be something that we find out in an article in the media or in a committee meeting for instance. So these preliminary checks should be done and my office should be consulted when necessary," he said, suggesting doing so would also go a long way in increasing Canadians' trust in intuitions, knowing any new technology's privacy implications were assessed at the outset.
Mendicino said Monday that the federal government is "committed" to working with the privacy commissioner's office on this file, saying that it was "unfortunate" that the lead federal privacy authority was not involved from the outset, but wouldn't commit to pursuing new privacy requirements for the RCMP under the law.
RCMP YET TO SHARE INFO
Parliament's privacy watchdog said that he first learned about this spyware program in June after the documents tabled in the House at the request of a Conservative MP were first reported on by Politico.
At that time, his office contacted the RCMP seeking more information. The RCMP has yet to provide any, but has indicated it is aiming to provide the commissioner with a briefing and demonstration later this month.
Dufresne said his office will review the information gained from that meeting to "ensure that any privacy invasive programs or activities are legally authorized, necessary to meet a specific need, and that the intrusion on privacy caused by the program or activity is proportionate to the public interest at stake."
If the commissioner finds the RCMP's use of these spyware tools has privacy shortcomings, his office will provide the RCMP with recommendations for change.
"We would expect them to make the necessary changes," he told the committee.
Upon learning of the lack of sharing information with the privacy commissioner, Conservative MP and committee member Damien Kurek said it was "disappointing" and "not a good precedent."
Kurek said it reminded him of behaviours by other federal agencies that the committee has previously examined through their work on mobility data and facial recognition software.
PRIVACY EXPERTS TO TESTIFY
A second full day of hearings are scheduled for Tuesday, where the committee will hear from expert witnesses including former privacy commissioner Daniel Therrien, as well as representatives from the Privacy and Access Council of Canada and the Canadian Civil Liberties Association.
The study was proposed by Bloc Quebecois MP and committee vice-chair Rene Villemure, and was backed by other committee members, though there was some reluctance from Liberal MPs.
In making his case to the committee to begin this study, Villemure echoed concerns expressed by privacy and civil liberties groups when the use of these intrusive tools by police in Canada were revealed.
As part of its work, the committee has called for the RCMP to provide a list of warrants obtained, and also sought information related to the potential wiretapping of MPs, their parliamentary assistants, or any other Parliament of Canada employee.
This request has been met with resistance from the RCMP and the committee is exploring its options to compel further information in an appropriate setting, while looking to ensure any documents provided to the committee that can be made public be published on the committee's website.
"We're having some trust issues," said NDP MP and committee member Matthew Green to the panel of RCMP officers testifying on Monday.
"We had members of your service refuse to provide basic information in this committee, which in my opinion, is in contradiction to your duty of candor," said Green.
The committee is aiming to finalize its study and submit a report to the House of Commons—with potential recommendations for changes to the law or oversight mechanisms— by the start of the fall sitting, on Sept. 19.
Privacy experts disagree with RCMP assertion that spyware is similar to wiretapping
One witness told the privacy committee that spyware is 'like a wiretap on steroids,' and requires more oversight and a much higher threshold for use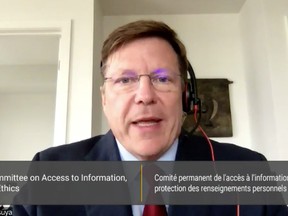 OTTAWA — A former senior intelligence officer with the Canadian Security Intelligence Service says it has surveilled politicians at the federal, provincial and municipal levels because of concerns they're being paid by foreign governments.
Michel Juneau-Katsuya told a House of Commons committee in French that foreign agencies try to recruit elected officials, who may not even be aware they're being targeted.
That revelation raised eyebrows among committee members, who are studying the RCMP's use of spyware after the force disclosed in June that it has been using the technology in some investigations for years.
Juneau-Katsuya also said Canadian government agencies are likely using spyware to hack into people's cellphones without them knowing.
Conservative MP Ryan Williams asked if he knows of groups such as CSIS, the Canada Border Services Agency and the Communications Security Establishment using spyware.
"Other agencies are using it, probably, yes," Juneau-Katsuya said.
Juneau-Katsuya is among several experts who told the ethics committee Tuesday that government needs to review and update the part of the Criminal Code related to electronic surveillance to bring it in line with evolving technology.
Privacy experts say police and government use of "extremely intrusive" spyware needs to be tightly controlled, and the technology should be outlawed for the general Canadian public.
The director of the University of Toronto's Citizen Lab said spyware is "like a wiretap on steroids," and requires more oversight and a much higher threshold for use.
"(Cellphones) are designed by their manufacturers to be as invasive as possible. They are designed — as well as the apps contained in them — to track every aspect of our lives, so this is a gold mine of information," Ron Deibert said.
On Monday, senior RCMP officers told the committee that while the technology is new, the invasion of privacy on a digital device is similar to what police have done for years through wiretapping and installing surveillance cameras.
But experts speaking to the committee Tuesday said that's not the case and highlighted concerns with the industry as a whole, which has facilitated human rights abuses and state targeting of politicians, journalists and activists.
Deibert made seven recommendations to the committee, including that the government hold public hearings about spyware, consult the public to create a legal framework around it, establish export controls on Canadian companies and penalize firms that facilitate human rights abuses.
He also said spyware firms are targeting local and provincial police forces as potential clients, and warned that oversight is not as stringent at those levels.
"We are really asleep at the wheel on the threats raised by the global mercenary spyware industry."
Brenda McPhail, the privacy, surveillance and technology project director for the Canadian Civil Liberties Association, said police use of spyware encourages law enforcement to exploit software issues rather than reporting or fixing them.
She called for a moratorium on use of surveillance technology until a public discussion is done.
Former privacy commissioner Daniel Therrien told the committee earlier Tuesday that he did not know the RCMP has been using what it calls "on-device investigative tools" for more than a decade.
"It was surprising that in the context of many, many debates in the public about the challenges of encryption (in policing), that when I was privacy commissioner I was not told that a tool was used to overcome encryption," he said.
During his tenure between 2014 and 2022, Therrien called for Parliament to strengthen Canada's privacy laws. In particular, he said privacy needs to be recognized as a fundamental human right under the law.
Sharon Polsky, president of the Privacy and Access Council of Canada, called for spyware to be made unlawful except for in specific cases, when approved by an independent third party.
"They're available commercially to anyone who has an internet connection and wants to download them," she said, noting that spyware has been used by human traffickers and in intimate partner abuse.
"Nobody's talking about how the spyware is able to take advantage of the shortcomings, the deficiencies in so many software programs … Require that software be tested properly to minimize the opportunity."
Therrien agreed the technology can be lawfully used by police if there is an extremely compelling public interest, as in the case of serious crimes.
"Such level of intrusiveness can still be lawful and consistent with privacy principles if the collection of information is authorized by law, and it is necessary and proportional to the achievement of compelling government objectives," Therrien said.
But he also said he cannot see any compelling reason why someone in the private sector should be able to use it.
New federal privacy commissioner Philippe Dufresne told the committee Monday that the Mounties didn't notify his office before starting to use spyware, and he learned about it through the media.
He's called on MPs to make changes to privacy legislation that would require government departments and organizations to launch privacy impact assessments when new technology is introduced that could have an impact on the fundamental right to privacy.
Police response to ongoing Canadian convoy protests questioned, criticized
"What this has shown is their failure to act," Mi'kmaq lawyer, professor, and activist Pam Palmater said about Ottawa's ongoing trucker protest.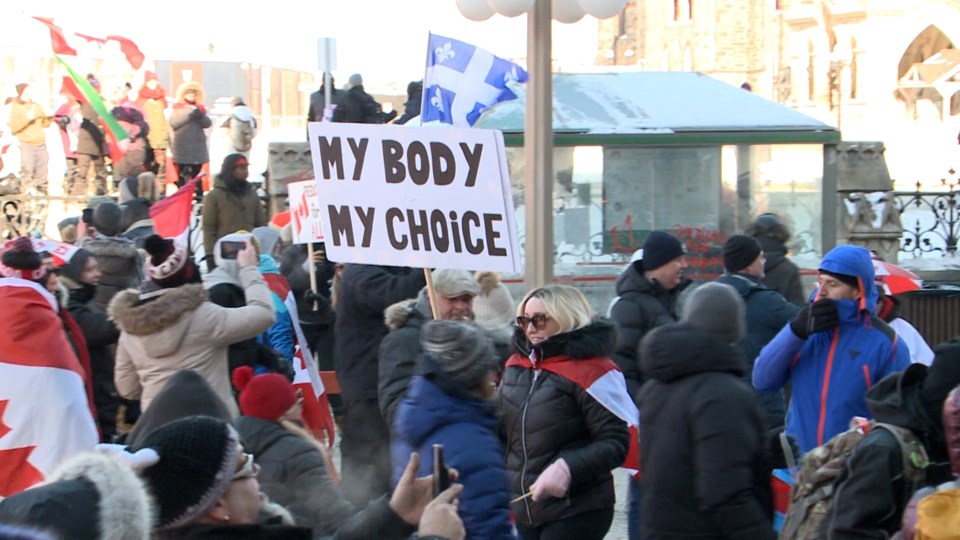 Listen to this article
00:07:34
Indigenous and environmental activists are closely watching how officers treat convoy protesters blocking the roads in Ottawa and a border crossing in Alberta — saying there's a double standard in police enforcement depending on what the protest is about and who is doing the protesting.
On Tuesday evening, the Ottawa Police Service announced that two arrests have been made. One on January 29 for mischief, and one on January 30 for carrying a weapon to a public meeting.
"On [January] 29th, a man caused mischief to property. He was not arrested at the time in order to avoid a larger confrontation," says a statement from police.
"We want to be very clear, both for the current demonstrations and any planned demonstrations: Illegal activity will not be tolerated. There will be consequences for anyone contravening City By-laws, Highway Traffic Act and Criminal Code legislation."
There are 13 criminal investigations underway. There have been eight reports to a hotline launched to respond to hate-motivated instances, three of which are under investigation.
In Ottawa, crowds have thinned but some members of the so-called 'freedom convoy' remain.
What was originally described as a demonstration against vaccine mandates for cross-border truckers has caused days-long disruptions in the nation's capital.
The presence of far-right extremist groups, display of swastikas, comparisons of COVID-19 measures to the Holocaust, desecration of monuments, and racist impersonations of Indigenous ceremony have drawn widespread condemnation.
Travel to and from the downtown core has been completely paralyzed since Friday evening. Residents, non-profits and business owners have spoken out about how unsafe they feel.
Ottawa police chief Peter Sloly has called his force's response to the convoy a success, based on dialogue and de-escalation tactics. He pointed to other examples of protests in support of Black Lives Matter and in opposition to pipelines that have been allowed to proceed without any arrests being made or enforcement action taken.
"We shut down traffic in the core, facilitated peaceful protests, albeit unlawful, but peaceful protest in order to find that balance between the ability for people to exercise their Charter rights and demonstrate in the nation's capital around incidents and issues that were national, provincial, and local in nature," he said.
"We've done that on countless occasions, literally hundreds of times a year in my two years here as chief of police."
But he didn't respond to a direct question about the response to a 2020 protest when 12 people were arrestedand charged with mischief. One of the groups that organized the protest was the Justice for Abdirahman Coalition. Formed in 2016, the group came together after Abdirahman Abdi, a Somali-Canadian, was killed during an interaction with police. The 2020 protest began on the evening of Nov. 19. Demonstrators were demanding a freeze to the city's police budget, and calling an end to systemic racism in policing, education, health, and housing.
Arrests were made within 36 hours.
Blockades in the west
In Alberta, a blockade of the Canada-U.S. border entered its fourth day before the RCMP took enforcement action Tuesday. Premier Jason Kenney said he was made aware of reports that "people aligned with the protesters" were "assaulting RCMP officers, including in one instance trying to ram members of the RCMP, later leading to a collision with a civilian vehicle in the area." The RCMP has not announced any arrests.
Mi'kmaq lawyer, professor, and activist Pam Palmater says blockades by Indigenous groups that have been deemed illegal, like the Alberta convoy protest, have typically faced harsher, swifter enforcement.
"There is a marked difference, it's literally night and day," she said.
She stresses that those drawing attention to the contrast are not encouraging a violent crackdown on the convoys.
Nobody in the Indigenous community or any other environmental group has said, 'We want the police to do to you what they've done to us."
However, she says the protests in Ottawa represent more of a public safety threat than those of blockades set up in B.C. by Indigenous and environmental activists
"You've got this scenario where there's actual criminality, there's no organization, it's terribly unsafe — nurses and paramedics aren't safe, shelter residents aren't safe, local residents aren't safe," Palmater says.
"What this has shown is their failure to act. Their statement saying, 'We don't want to instigate, we don't want to even write tickets or tow trucks' — it shows that mob rules. Angry white mobs can, and will, and have taken over cities — and the police are saying that there's nothing that they can do. That's a huge concern for us as Canadians."
One example Palmater and others use is the dozens of arrests made on Wet'suwet'en territory in the last few years. The RCMP's action in Northern B.C. has sparked solidarity protests and rail blockades nation-wide. Those arrests were made as police enforced an injunction granted to Coastal GasLink by the B.C. Supreme Court. There is no court order currently in place in either Ottawa or at the Alberta border.
Still, a UBC researcher of social movements says there are other reasons why different protests are met with different responses from law enforcement.
"The level of repression that we see at protests is really a function of typically three different things. It's based on the assessment of threat, on the political ideology of the protest and protesters, as well as the racial characteristics of the protest," Max Chewinski, a PhD candidate in the department of sociology, said.
Racialized, left-leaning groups, and demonstrations impacting the economy are generally met with more force, he continues.
While Chewinski points to research from the U.S. that shows police are more likely to use force on Black protesters, Palmater says the same is true of the "blatant racism" Indigenous people experience in Canada.
"In the justice system in general, Indigenous peoples are racially targeted by police, they're treated differentially, they're discriminated against. We know that," she said..
"What we want to do here is say that these are rogue incidents — it's just one bad officer, it's one bad protester, when in fact we've got significant, systemic racism across the country."
'We can not really compare apples and oranges': security expert
Michel Juneau-Katsuya, a former senior intelligence officer at CSIS, says the decisions on how to respond vary based on specific circumstances. For example, he says it's possible the blockade in Coutts isn't being met with the same urgency as blockades of busy, city streets because it does not block off emergency or commuter routes, and so does not pose the same risk or create the same level of disruption.
"Any protest, any situation is a situation on its own, and the situation needs to be evaluated. And there are factors that exist in one case that don't exist in the next one," he said.
"We cannot really compare apples and oranges with one another because every protest is a different situation."
Sloly also says people should not be comparing what is happening in Ottawa with previous protests in that city or with protests in other places.
"Every demonstration has certain, similar characteristics, every demonstration is unique. This demonstration is not only unique but unprecedented."