What is Trudeau hiding regarding Chinese interference within Canadian politics
John Ivison: Trudeau government

has done nothing

to stop China's 'games'
After two elections of blatant rule-breaking and intimidation, there is still no sign of action from Trudeau the federal government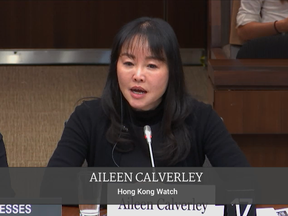 OTTAWA — Justin Trudeau's acknowledgement that the Chinese are playing "aggressive games" by interfering in Canadian elections is about as shocking as Captain Renault finding gambling was rampant at Rick's Cafe in Casablanca.
The prime minister was responding to questions raised in an excellent Global News report about China targeting Canada with a campaign of interference in the 2019 election that included payments through intermediaries to at least 11 federal candidates.
The details were new, but the general thrust of the Chinese tampering with Canadian democracy is well known, not least to this country's spy agencies.
While it is easy to grow nonchalant with China's flouting of international law, the implications are appalling.
The most recent allegations centre on the Chinese opening police stations on Canadian soil to intimidate the country's diaspora. The Chinese government doesn't deny their existence but calls them "service centres" for expats to renew identity cards and driving licences. Canadian governments of all shades, and at all levels, are challenged with trying to counter the influence of a foreign power whose tentacles extend deep within a diaspora community where some members remain sympathetic to Beijing.
Former Conservative leader Erin O'Toole estimates Chinese interference cost his party nine or 10 seats in the 2021 election because Beijing did not want to see a Conservative government. O'Toole said thousands of traditional Conservative voters in B.C. and Ontario simply didn't vote because they didn't want to appear on voters' lists in ridings that backed the Conservatives.
"We need to have a serious conversation. In certain areas of the country, you have to kowtow or bend your foreign policy away from Canada's best interests (to win votes). That's dangerous ground," he told the National Post.
RECOMMENDED FROM EDITORIAL
Report after report after report have said the same thing: that Ottawa needs to develop a comprehensive strategy to counter foreign interference, building institutional and public resilience by amending inadequate existing legislation.
The mandate letter for Marco Mendicino, the public safety minister, calls on him to "expand collaboration and information and intelligence sharing with Canadian partners and all orders of government to address security risks in foreign research and investment partnerships."
That would require tabling legislation. But after two elections of blatant rule-breaking and intimidation, there is still no sign of action from the federal government.
The Global story revealed that the Chinese (and presumably the Russians and Iranians) are exploiting Cold War era espionage and counterintelligence laws.
In April 2021, Conservative B.C. MP Kenny Chiu introduced a private member's bill that would have ushered in a foreign influence registry, requiring individuals to file a return if they were working for a foreign state, on pain of a $200,000 fine or two years in jail.
However, Chiu was targeted by Chinese interference in the 2021 election, he lost his seat and the bill was not resurrected.
One government official said a foreign agent registry is something that is "likely to happen," while an update of the CSIS Act is something the government is looking at, even if no decisions have been made.
He pointed to bill 26, which is before the House of Commons and was introduced after the ban on Chinese telecoms company Huawei, as an example of the government's commitment to making security a key part of telecom policy.
Dennis Molinaro, a former national security analyst and professor of legal studies at Ontario Tech University, said that Canada has no laws that deal with foreign interference, or even a foreign agents registry of the kind that operates in the U.S. and Australia.
He said the CSIS Act was aimed at combating Cold War espionage and sabotage in the 1980s and doesn't cover threats like the influence operations being carried out by the Chinese.
Currently, CSIS can only share information with law enforcement agencies if a crime is committed. He said it would require legislative changes to allow the sharing of information with the private sector and academia.
Molinaro proposes a public review of national security to investigate how acute foreign interference really is. "In the meantime, let's put through a foreign agent registry as a stop-gap, to deter some of the activity," he said.
"To me, we are dealing with Canadian sovereignty issues. It's a direct attack on Canadian democratic institutions and if we don't protect that, what are we doing, being taken over?"