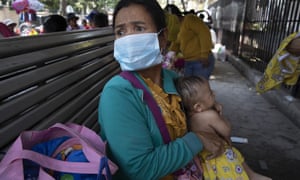 Cambodian children wait for medical care in Phnom Penh. The death toll in China from coronavirus has soared overnight to pass 1,300 cases. Photograph: Paula Bronstein/Getty Images
Share prices across
Asia Pacific
are showing little sign of stress today despite the alarming jump in new Covid-19 cases in China.
Australia's ASX200 has soared to a record high this morning, climbing by 0.2% to 7,100 points, although it has come down a bit from earlier highs. In Tokyo, the Nikkei is flat and the Kospi index is up 0.37% in Seoul.
However, safe havens such as the Japanese yen and gold rose in response to the news from
China
. The yen last traded at 109.91 per dollar while gold rose 0.3% to $1,570.30 per ounce. The Australian dollar, a proxy for the Chinese economy, fell 0.2% to US67.25c.
I mentioned earlier that Hubei authorities had begun including cases diagnosed through new clinical methods from Thursday in its daily figures
Reuters is reporting that Chinese state media said last week that Hubei would start recognising computerised tomography (CT) scan results as confirmation of infections, allowing hospitals to isolate patients more quickly.
The total number of confirmed patients in
China
is just under 60,000.
Unlike many news organisations, we chose an approach that means all our reporting is free and available for everyone. We need your support to keep delivering quality journalism that's open and independent. Every reader contribution, however big or small, is so valuable.
For as little as CA$1 you can support us – and it only takes a minute. Thank you.

Make a contribution - The Guardian
We have confirmation now that the latest person to be diagnosed with the virus in the US (bringing the US total to 14), was an evacuee from Wuhan.
The patient was among 232 individuals who had been placed under quarantine at the Marine Corps Air Station in Miramar after being airlifted from Wuhan.
A previous case of coronavirus was documented a few days earlier among the same group of evacuee.
Centers for Disease Control and Prevention
officials said it appeared that the two San Diego patients were separately exposed to the virus in
China
before arriving in the United States. The two arrived on different planes and were housed in separate facilities.
The big rises in figures today cast a shadow on Beijing's touted "positive results" from efforts to contain the virus.
President Xi Jinping had chaired a meeting of the ruling Politburo Standing Committee after figures showed that the number of new cases dropped on Tuesday and Wednesday.
Xi said there were "positive results" but warned that the country "must not relax" its epidemic control efforts, according to state media.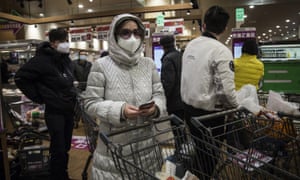 Daily death toll rises sharply
In addition to the rise of new cases, there has also been a significant rise in the death toll in the past 24 hours.
More than 245 deaths were recorded on Wednesday (figures published on Thursday). This compares with 97 deaths the previous day.
There has been no change to the way deaths are recorded, so this really is a significant increase in one day.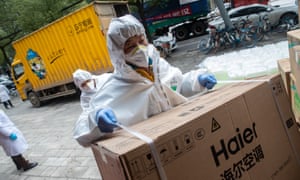 Updated
Huge increase in new cases of virus
First up let's have a look at the massive jump in reported new cases of coronavirus.
Nearly 15,000 new cases have been reported in a 24-hour period, taking the total number of cases to just under 60,000.
To get an idea of the significance of this, the figure for confirmed new cases for Wednesday was 2,015.
The Hubei health commission noted that it had begun including cases diagnosed through new clinical methods from Thursday.
You may know that there has been a lot of debate in the media in recent days about a change in the way of counting figures by the National Health Commission.
There was a suggestion that from 7 February, people who had tested positive but showed no symptoms, were not counted as confirmed cases. It has been very difficult to pin down the exact changes, and I'll try to do that today.
But from my reading, it's likely that this huge jump in new confirmed cases reflects an adjustment of calculations, rather than a massively steep increase in actual new cases. I'll keep updating you on this as we get more information on it.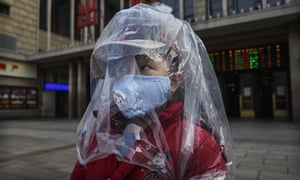 Updated
Second US patient in San Diego tests positive
The US Centers for Disease Control and Prevention has said a second patient in San Diego, California, has tested positive for coronavirus, according to CNBC.
Earlier in the week another patient in San Diego who had been evacuated from Wuhan tested positive.
We'll try to bring you more on that as soon as we can but that would take the US positive cases to 14.
Updated
Welcome to our rolling coverage of the coronavirus outbreak. These are the top developments today:
The number of deaths in China has increased sharply by at least 245 as of midnight on Wednesday, according to health officials
All but three of the new deaths were recorded in Hubei province, taking the national total to 1,359
New cases in Hubei have also leaped by 14,887, a sevenfold increase on the day before. The national total is now nearly 60,000 cases.
The WHO chief has said the outbreak could still go in "any direction"
UK health chiefs are preparing for more cases after confirmation of the first case in London – a woman who flew into the UK from China at the weekend.
A second patient has been diagnosed with Covid-19 in California
A cruise ship refused by four countries, the MV Westerdam, will be allowed to dock in Cambodia.
The annual gathering of the tech industry in Barcelona – the Mobile World Congress – has been cancelled over fears of contagion at the huge event.
You can get in touch with me on alison.rourke@theguardian.com