Morrison's mission to rebuff China
The visit comes as Beijing ramps up regional tensions with its attempts to lure the Solomons and other small island-states to sever ties with Taiwan, and US warnings that Chinese interference in the Pacific is leading to "the possibility of conflict".
The Australian

can reveal the Prime Minister will use his first overseas trip since the election to visit new Solomons Prime Minister Manasseh Sogavare in Honiara on Sunday, before travelling to London for the 75th anniversary of D-Day and returning home via Singapore.
Mr Morrison, who has promised a fresh focus on Australia's Pacific "step-up", moved yesterday to elevate the importance of the region by appointing his ­factional ally and numbers man Alex Hawke to lead a frontbench ministry focused on the region.
He has emphasised his government's strengthened commitment to the Indo-Pacific in conver­sations with regional counterparts since his election victory, including Japanese leader Shinzo Abe, Indonesian President Joko Widodo, Fiji Prime Minister Frank Bainimarama and Vanuatu Prime Minister Charlot Salwai.
Mr Morrison also paid tribute to Peter O'Neill, who stood down yesterday as Papua New Guinea prime minister amid moves to oust him, saying he had enjoyed a "strong friendship" with Mr O'Neill, and describing PNG as "our closest friend and neighbour".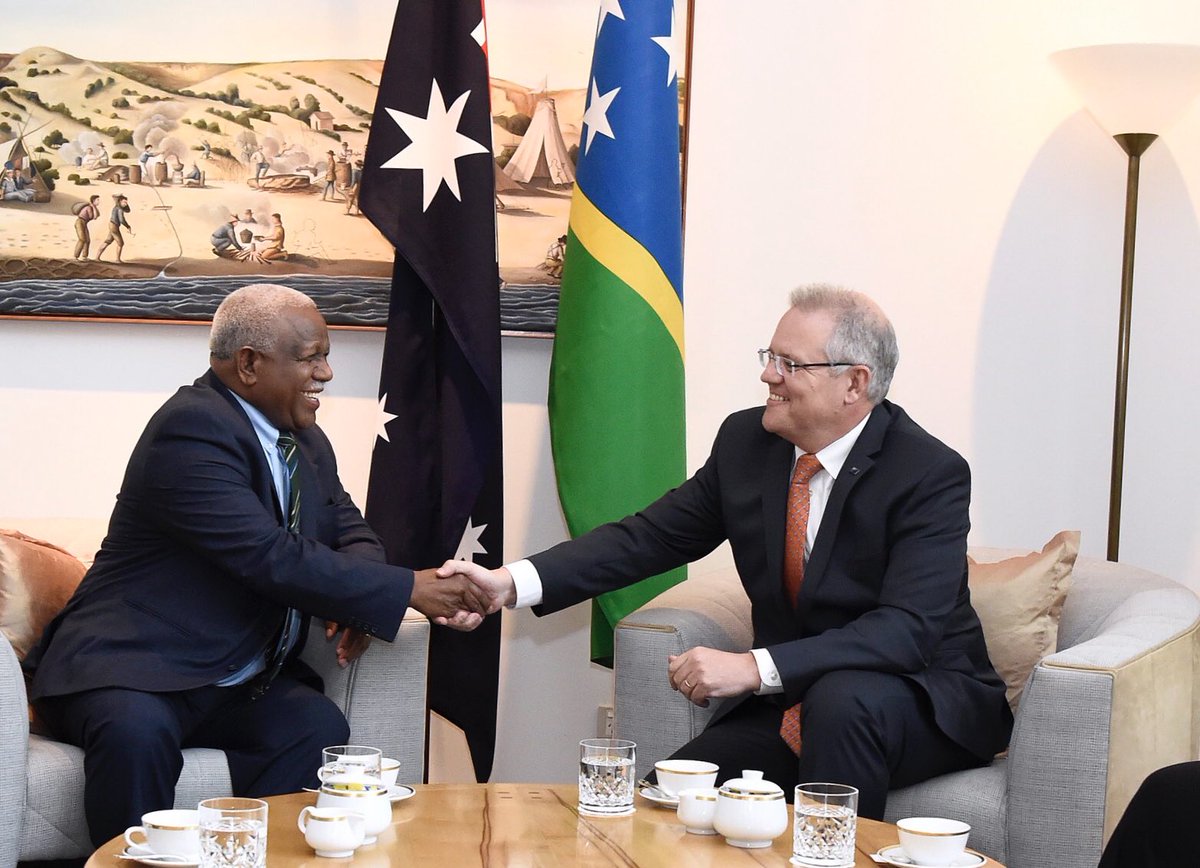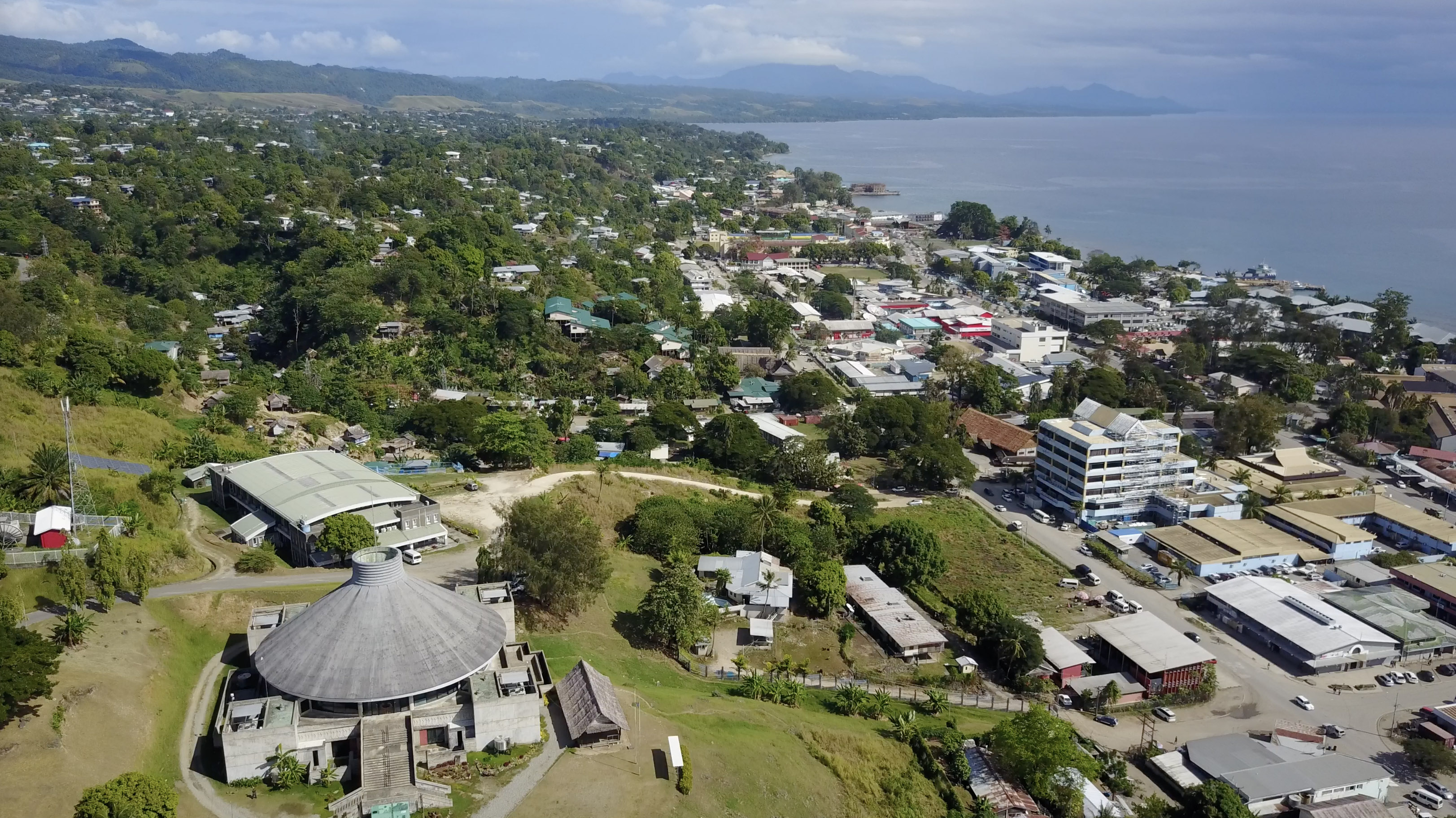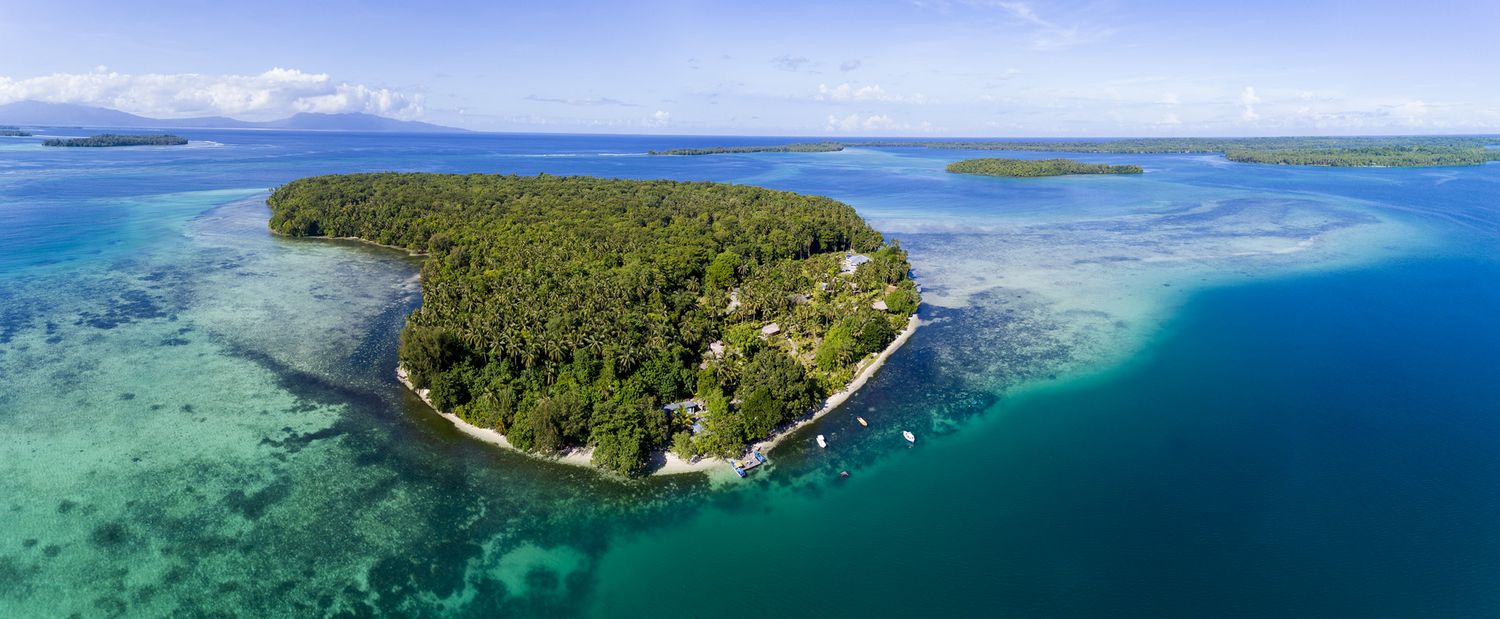 The Solomons visit will be seen by China as an attempt to buttress Australia's strategic ambitions in the region, and comes amid US warnings that Beijing is risking "the possibility of conflict" through its attempts to convince Taiwan's Pacific allies to switch their diplomatic allegiances.
China is the Solomon Islands' biggest economic partner, but like Nauru, Kiribati, Palau, the Marshall Islands and Tuvalu, it maintains diplomatic relations with Taiwan.
Mr Sogavare has revealed that his government was considering cutting ties with Taipei, with local media reporting pressure from MPs within his ruling coalition to side with Beijing amid promises of significant Chinese infrastructure spending.
Senior US State Department official Patrick Murphy, who was in Australia last week to discuss the US Indo-Pacific strategy with his Australian counterparts, said Chinese "bullying" of Pacific ­nations in an attempt to force them to turn their backs on ­Taiwan posed a threat to regional stability.
"Countries should be able to make their own independent ­choices of their partners in ­diplomatic relations, and do so on the basis of domestic ingredients, not foreign influence," Mr Murphy said in Canberra on Friday.
Mr Morrison's trip to the Solomons is the first by an Australian prime minister since Kevin Rudd visited Honiara in 2008.
Announcing his new frontbench yesterday, Mr Morrison named Mr Hawke as Minister for International Development and the Pacific, and Assistant Minister for Defence, saying the arrangement would bring together all of Australia's support for the region.
"That will ensure we're able to integrate everything from our role in our international development program and defence initi­atives throughout the Pacific to ensure we're working closely with our Pacific family," Mr Morrison said. "You all know our passion for the Pacific 'step-up' program, a very important program in ­Australia's national interest."
The Pacific portfolio was previously held at assistant ministerial level, about which some Pacific nations had privately ­expressed concern.
Beijing, which is seething over the exclusion of technology giant Huawei from Australia's 5G network and the Coalition's crackdown on foreign interference, reacted sharply to Mr Morrison's election win, with the state-owned

China Daily

­accusing the Prime Minister of acting with "bias and suspicion" towards China.
The attack by the state-owned newspaper, which called on the federal government to "refresh its perspective on China", followed comments by Mr Morrison ­during the election campaign in which he framed the US as a "friend" and China as a "customer".

China Daily

said the remarks "came as no surprise", given "Canberra's obstinacy in raising false alarms about China's interference in its domestic affairs and its politicians' reckless remarks about the South China Sea", and China's "normal co-­operation" with the Pacific ­nations.
Mr Morrison has strongly articulated his government's support for the Pacific "step-up" since becoming Prime Minister, and ­reiterated the need for "the strongest possible US political, ­security and economic engagement in the Indo-Pacific".
"The government I lead is committed to the Pacific as one of my highest foreign policy priorities, because this is where we live," he told the Asia Society in a key foreign policy address last year.
"This is a relationship that I want to see rise to a new level of respect, partnership, familiarity and appreciation. I want us to do better. I want to set right how we engage with our Pacific family.
"I will not be taking our Pacific family for granted."
According to the Lowy Institute's Pacific Aid Map, the Solomon Islands receives about $8.8 million a year in aid from ­Taiwan, compared with $111m from Australia.
Mr Sogavare recently confirmed his government was considering cutting ties with Taiwan, saying the relationship "is not hard and fast and fixed".
The

Solomon Star

newspaper recently reported government MPs from the provinces of Guadalcanal and Malaita had given Mr Sogavare six months to switch diplomatic relations to China or face a motion of no ­confidence.
However, the anti-corruption group Transparency Solomon ­Islands said the MPs were using the issue as a ploy to force Taiwan's hand. "It's a leverage to get Taiwan to increase their contribution to CDF (Constituency Development Funds) — when that is done, they will not go to China," said TSI director Ruth Liloqula.