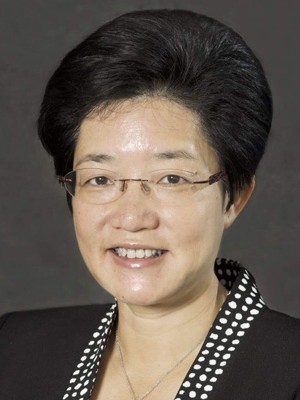 Dr Dong Yang Wu took up her appointment as Chief of Aerospace Division in July 2017.
In this role, she leads the work of over 300 scientists, engineers and technicians who undertake science and technology work to support the operation of Defence's fixed-wing aircraft and helicopters.
Dr Wu has Ph.D and Masters degrees in physical chemistry from University of Haute Alsace (France), and a Bachelors degree in chemistry from Sun Yat-Sen University (China). She is an Adjunct Professor at the Royal Melbourne Institute of Technology (RMIT) in Australia, and Adjunct Professor at the Hong Kong Polytechnic University.
Prior to joining DST, Dr Wu worked for five years as the Managing Director of Boeing Research & Technology in China, and was Chairman of the Board of Governors of Aviation Services Research Center co-founded by Boeing and Hong Kong Polytechnic University.
From 2008 to 2012, Dr Wu was the Manager of the Melbourne Technology Centre and the Chief Scientist of Boeing Research and Technology – Australia.
Before joining Boeing, Dr Wu spent 17 years working at the Commonwealth Scientific and Industrial Research Organisation (CSIRO) of Australia as a leading scientist and leader of the Sustainable Polymeric Materials Group, where she was involved in the research and successful commercialisation of new technologies in Australia and globally.