Vancouver property developer wanted by Interpol for Chinese corruption
A major Vancouver property developer is on Interpol's list of wanted individuals for charges of corruption in China.
Michael Ching Mo Yeung is the president CEO of Mo Yeung Enterprises, a company that is spearheading a number of upcoming sizeable projects in the Metro Vancouver region including the International Trade Centre on the site of the Richmond Night Market and the Opus Hotel in Richmond.
The 45-year-old is the son of the late Cheng Weigao, a senior Chinese government official who was investigated for corruption and later expelled from the Communist Party.
Ching is apparently linked to his father's alleged abuse of power, siphoning money from the state and resulting in "huge losses." Interpol's website indicates Ching is facing the following charges in China:
State personnel who take advantage of their office to misappropriate, steal, swindle or use other illegal means to acquire state properties constitute the crime of graft. Conceals, transfers, purchases, or acts as an agent to sell something he clearly knows as booty which have been gained through committing a crime.
The cloud of allegations have hovered over Ching for years, but they were renewed earlier this month when the Chinese government included him in a new list of 100 wanted economic fugitives – a list that includes 26 individuals who are believed to be residing in Canada.
A Vancouver Sun report notes that Ching is challenging the allegations and has a one-day court hearing on June 23 in Winnipeg to avoid China's request for his deportation to face charges.
Mayor and developer wanted in China have friendly, working relationship
Local developer Michael Mo Yeung Ching is suing the Canadian government for $1.75 million because he hasn't been granted citizenship as a result of corruption charges he's facing in China
Richmond Mayor Malcolm Brodie says Michael Mo Yeung Ching, a prominent Richmond-based developer wanted by Interpol for embezzlement charges brought forth by the Chinese government "seems like a friendly guy."
Ching, known in China as Muyang Cheng, is the CEO of Mo Yeung Enterprises Ltd., the company developing Richmond's International Trade Centre near the casino on Bridgeport Road.
Ching donated $2,875 to Brodie for his last election campaign, via his own pocket or his companies.
Brodie qualified that number, stating most of the money was for two tables at his fundraising dinner.
Ching has not been found guilty of any charges, something Brodie, a lawyer, was quick to note.
"I look at this one. Here is a person that's denying everything and is in a place, not like other places, where we have a presumption of innocence," said Brodie, who told the Richmond News he's met with Ching "once or twice a year" over the past few years.
Ching also developed two towers on Lansdowne Road (the Spa Versante complex) and owns Collection 45 Properties Ltd., which donated $3,000 to the Richmond Community Coalition last election.
Ching also personally donated $1,600 to the Coalition.
Coun. Ken Johnston said he did not know Ching personally. Nor did he know any specifics on the International Trade Centre (having to be told by the Richmond News where it is located) and the details of Ching's donations.
"I might have passed by him. Do I know him? No. I don't have any relationship with him," said Johnston, who downplayed the influence developers have on civic politicians.
"There is no councillor that I've ever known that's been influenced by a contribution," he said, noting developer contributions are "the way civic elections are funded."
Coalition councillor Chak Au could not be reached for comment.
Ching is well known in the community as the director of the Richmond Mandarin Lions Club and a former vice-president and board member of the Canada Asia Pacific Business Association in Richmond.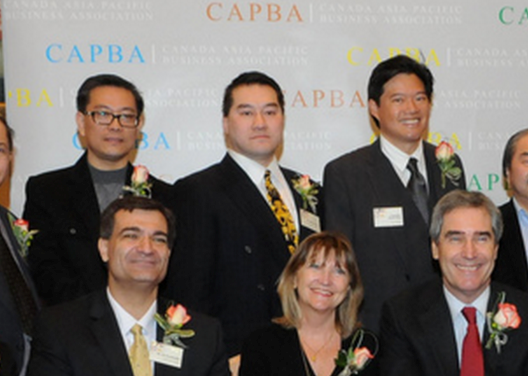 CAPBA president and Richmond First council candidate Elsa Wong said Ching is a "very nice guy and a business person."
She said Ching's removal from the CAPBA board of directors' webpage, immediately following last week's news reports of Ching's alleged problems, was an oversight, because the website is run by volunteers.
She said Ching hasn't been a member since last year.
Ching is reported to be politically active on all levels.
He can be spotted in photos at a 2011 CAPBA event (when he was vice-president) attended by former Liberal Party of Canada candidates Wendy Yuan and Joe Peschisolido and Richmond First councillors Derek Dang and Bill McNulty (and then, Ken Johnston).
McNulty, too, said he doesn't know Ching, at all, while Dang said he knows Ching through mutual acquiantances.
"He's around because he does a lot of business in Richmond, but it's not like we know each other (personally)," said Dang.
Ching's daughter Linda Ching is the president of the Young Liberal Party of Canada in B.C.
Ching has donated to the the Conservative Party of Canada and the Liberal party, which has stated to media it will hand back all donations from Ching if he is convicted in China.
Johnston said relinquishing money donated by a person subsequently found guilty of a crime would be a Coalition board decision and the party has not had such a discussion.
Ching, 46, is presently suing Canada for $1.75 million, according to Federal Court of Canada documents obtained by the Vancouver Courier.
He claims Canada has denied him citizenship (since 2001), at the request of the Chinese government as a result of the charges, which he claims were drummed up by torturing his associates.
Ching reportedly allegedly charged the Chinese government an extra $2 million in a real estate deal and split the profits with others. According to the South China Morning Post, his father, Cheng Weigao, was expelled from the Communist Party in 2003 after being accused of corruption, but he died before being proven guilty or innocent.
Last November, Ching, a permanent resident who came to Canada in 1996, was refused refugee status by the Immigration and Refugee Board and is appealing the decision in federal court, via a judicial review.
Last week, Chinese Foreign Ministry spokesman Hong Lei called Ching an "absconder" and that he was "bound to receive due punishment."
Ching told Canadian media, via his lawyer, that the charges against him are false and politically motivated.
The CBC reported IRB panelist Gordon McRae rejected Ching's claim for refugee status last October after finding he may have "committed a serious, non-political crime outside of Canada."
Ching could not be reached for comment, via his company, whose website is now "under maintenance."
PRIME MINISTER JUSTIN TRUDEAU AT THE MAY 22 NEPTUNE FUNDRAISER.
For Vancouver real estate developer Michael Ching Mo Yeung, politics is a family affair.
The wealthy 45-year-old businessman – who last week was identified as Chinese corruption fugitive Cheng Muyang – is the only son of the late Cheng Weigao, who rose to become governor and Communist Party secretary of Hebei province before being expelled from the party in 2003 after a graft investigation.
Online databases show that Ching – who relocated to Canada in 1996, a year after the allegations against his father were launched – has donated thousands of dollars to Canadian political parties. Ching, who admitted over the weekend that he is wanted by mainland authorities but denies guilt, was photographed with then federal opposition leader Michael Ignatieff at a 2011 event in the Liberal Party leader's honour.
The Province Newspaper asked Wong if Mo Yeung Ching is Michael Ching, the Vancouver and Richmond developer who has been involved in fundraising with former MP Raymond Chan for the federal Liberal party.
"Yeah, yeah, yeah," Wong said. "That's possibly correct. So far what you said."