China using students
as spies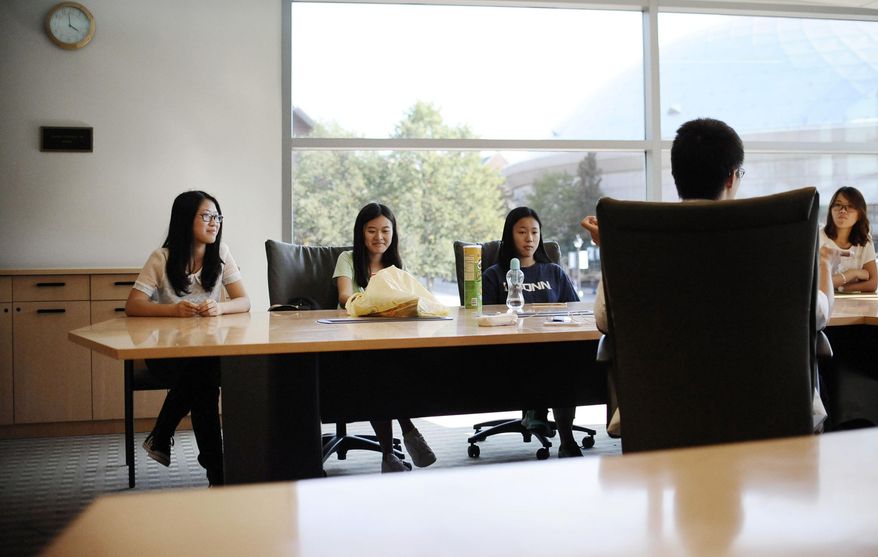 The 350,000 Chinese students in the U.S. "are here legitimately and doing great research and helping the global economy," said Bill Evanina, director of the National Counterintelligence and Security Center, but others are used as tools to facilitate nefarious activity. (Associated Press/File)
A senior U.S. counterintelligence official recently said publicly what many officials and experts have been warning privately for years: China is using its large student population in the United States to spy.
Bill Evanina
, director of the National Counterintelligence and Security Center, a DNI agency, said recently that
China
poses a broad-ranging foreign intelligence threat that includes the use of academics, students, cyber espionage and human agents to steal secrets from the government and private sectors.
"I look at the China threat from a counterintelligence perspective as a whole-of-government threat by China against us," Mr. Evanina told a conference last week at The Aspen Institute.
"We allow 350,000 or so Chinese students here every year," he said. "That's a lot. We have a very liberal visa policy for them. Ninety-nine point nine percent of those students are here legitimately and doing great research and helping the global economy. But it is a tool that is used by the Chinese government to facilitate nefarious activity here in the U.S."
Mr. Evanina said the Trump administration is more engaged in counterintelligence than the Obama administration, based on the fact that many current leaders had more experience in the private sector. A particular concern driving greater counterespionage against China is Beijing's spending of $80 billion annually on investment in the United States, he said.
"I believe our administration now, due to the makeup, is more interested in that number and how that impacts across the U.S. country than the previous administration," Mr. Evanina said. "If the Chinese government is buying up key aspects of our critical infrastructure and our technology base, is that a long-term national security threat for our country? I believe it is."
Michelle Van Cleave, a former counterintelligence official, testified to a House subcommittee earlier this month that China poses the most significant threat to steal advanced American technology from universities and other research centers.
"It's not just that there are a lot of Chinese nationals working in American companies or laboratories, or studying or teaching at American universities, picking up whatever happens to come their way," Ms. Van Cleave said. "No. As the Defense Department has reported, China has a government-directed, multifaceted secret program whose primary task is technology acquisition."
Michael Wessel, chairman of the U.S.-China Economic and Security Review Commission, also told Congress that China in 2006 launched two programs seeking to recruit up to 4,000 foreign specialists, mainly among ethnic Chinese, in such programs as "Project 111" and "Thousand Talents Program."
Mr. Wessel said about 20 percent of the staff at the Berkeley Artificial Intelligence Research (BAIR) Lab at the University of California Berkeley, which conducts research in advanced machine learning, are Chinese nationals.
At the University of Maryland's Bing Research Group, 30 of the 38 postdoctoral researchers and graduate students are from China, Mr. Wessel testified.
The announcement last weekend from North Korean leader Kim Jong-un outlining a plan to close the country's underground nuclear test site and halt nuclear and long-range missile tests left many Korea watchers in and out of government hopeful that Pyongyang will agree to give up its nuclear arsenal after the upcoming summit between President Trump and Mr. Kim.
A careful reading of Mr. Kim's six-point announcement, however, reveals troubling signs that the Kim regime has no intention of giving up its newly developed ability to target the United States with nuclear-tipped missiles. The announcement carried by the official KCNA news agency makes clear that Pyongyang's development of nuclear warheads small enough to be launched on ICBMs was a "great victory."
In fact, Mr. Kim "declare[d] solemnly" that the nuclear missile program was achieved through "great struggle," involving nuclear tests, miniaturizing and reducing the weight of nuclear warheads, and building an "ultra-large nuclear weapon" and the means to deliver it.
Those steps "sequentially and faithfully realized the nuclear weaponization," Mr. Kim stated.
Additionally, the North Korean leader said Pyongyang would limit the use of its nuclear arsenal to counter a "nuclear threat or nuclear provocation" and will not transfer nuclear weapons abroad.
U.S. intelligence agencies estimate that North Korea has 20 weapons.
The references to nuclear weapons' use and a promise not to transfer the arms are widely viewed by skeptical analysts as indications that the North Korean leader has no intention of giving up the weapons despite renewed negotiations with the United States and South Korea.
Mr. Trump on Tuesday said his efforts to pressure North Korea are bringing results, specifically in talks on denuclearization and some concessions by Pyongyang.
"This should have been resolved by other presidents and by other leaders of other countries a long time ago," Mr. Trump said. "With that being said, I think we're doing very well. Meetings are being set up, and I want to see denuclearization of North Korea."
The president also said the talks with North Korea may fail. "So the end result is, we'll see," he said. "Maybe good things will happen, and maybe we're all wasting a lot of time. But hopefully it will be good for everybody concerned."
Pacom nominee on Chinese submarines
Adm. Philip Davidson, nominated to be the next commander of the Pacific Command, said in prepared testimony this month that China is advancing its submarine warfare programs but still lags behind the Navy.
"The United States maintains a significant asymmetric advantage in undersea warfare, but the PLA is making progress," Adm. Davidson said of China's People's Liberation Army.
According to the four-star admiral, China has put a priority on developing advanced submarines and capabilities to counter U.S. submarines, including building underwater drones.
"The Chinese are investing in a range of platforms, including quieter submarines armed with increasingly sophisticated weapons, unmanned underwater vehicles, new sensors and new fixed-wing and rotary-wing submarine-hunting aircraft," said Adm. Davidson, who was confirmed by the Senate Armed Services Committee on Tuesday and is awaiting a vote by the full Senate.
"Ultimately, this is a perishable advantage for the United States," he added. "Absent sustained, consistent investment and constant innovation, the PLA will catch the United States in this critical regime."
The Pentagon's latest annual report on China's military power made no mention of China's underwater drones.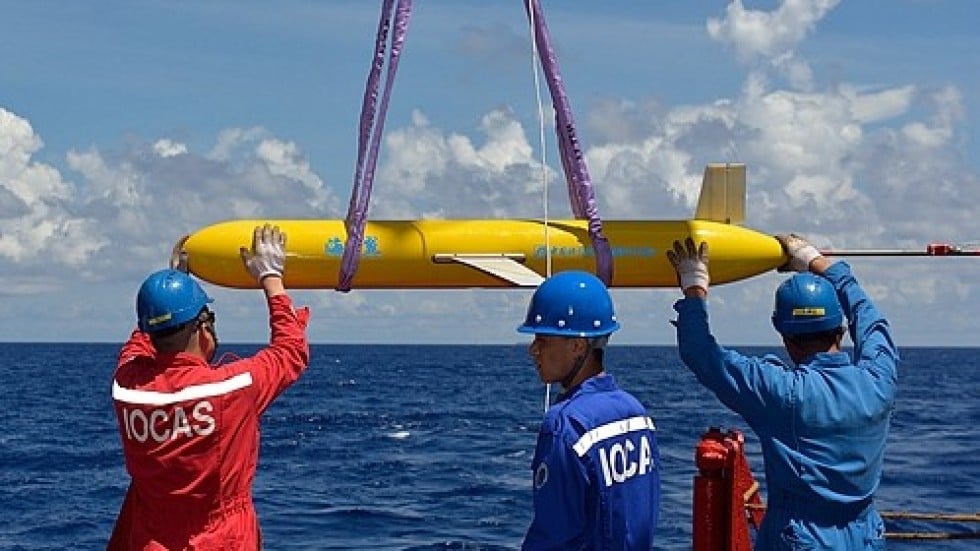 The report said in June 2016 that a Chinese national pleaded guilty to illegally acting as a Chinese agent in supplying U.S. components to the Harbin Engineering University for use in developing unmanned underwater vehicles, remotely operated vehicles and autonomous underwater vehicles.
MILITARY GETS FASTER INTERNET
The Defense Information Systems Agency announced this week that the Pentagon is upgrading its networks to move information at speeds 10 times faster than current data transfer rates.
The agency is updating the Defense Information Systems Network optical transport system from the current transfer rate of 10 gigabytes per second to 100 gigabytes per second.
A program called the Next Generation Optical Transport network will boost U.S. combat command networks with improved security.
"This is a critical infrastructure upgrade that will benefit unified commanders and combat forces worldwide," said Johnathan Bunting, chief of the global projects branch at DISA's Infrastructure Directorate. "This will eliminate network outages due to single-event occurrences and improve our availability to key Department of Defense applications and services."