China electronic spying threat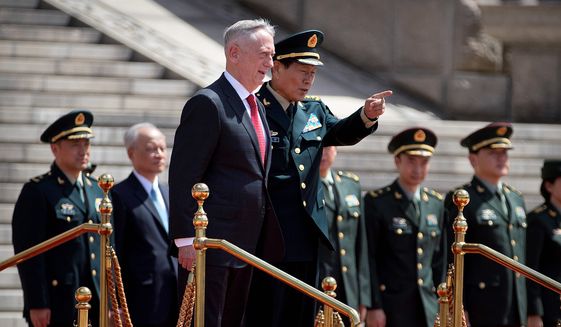 Another PLA unit known as 4PLA specializes in electronic countermeasures and radar intelligence. As reported in this space last year, the 4PLA operates an entire Beijing hotel called the Seasons Hotel for its operations.
Chinese intelligence continues to exploit its hack of some 21 million federal records at the U.S. executive branch's Office of Personnel Management several years ago. The OPM cyberattack compromised sensitive personal information on millions of Americans who hold security clearances.
U.S. intelligence officials believe the Chinese are using the stolen data for high-technology, artificial-intelligence-driven spying operations.
The first problem using the rented computer was deciphering the Chinese language. A hotel assistant helped by loading an English-language Yahoo webpage on the computer browser. From the Yahoo site, a temporary email was created for the visit and used to file stories.
Asked about the extreme electronic precautions, a senior defense official said: "Welcome to the new security environment."
According to the report, a special Pentagon unit called the Defense Innovation Unit Experimental, or DIUx, recently concluded that "the scale of the [Chinese economic] espionage continues to increase."
"In part, this is because U.S. companies may be unaware of theft by an insider before it is too late," the report said. "In part, this is because some U.S. companies are unwilling to report the theft for fear of the adverse consequences that such a disclosure could entail. Even when victims report, the Chinese government is typically unwilling to cooperate, making a successful cross-border investigation difficult."
The House intelligence authorization bill for fiscal 2019 contains provisions requiring U.S. intelligence agencies to better monitor and counter election-influence operations by Russia.
The bill that passed the House Permanent Select Committee on Intelligence this week calls for an intelligence report on Russian election meddling over the past three years, and on anticipated operations as well as U.S. counterintelligence efforts against those operations.
The report is a recognition that the Obama administration did little or nothing to counter the Russian influence campaign during the 2016 presidential election, despite intelligence agencies knowing about the secret program since 2015. The intelligence analysis report outlined in the legislation would summarize significant influence campaigns by Russian intelligence and the methods used in carrying them out.
Another section of the intelligence bill would require federal security and intelligence agencies to post on a public website "an advisory report on foreign counterintelligence and cybersecurity threats to election campaigns for federal offices."
Another section of the bill would require the creation of an Energy Infrastructure Security Center within the Energy Department to better deal with cyber and other threats to the electric grid and other critical energy infrastructure.