What a WOO WOO!!!
As Gateway Pundit Reported Back in December — Biden Regime Is Now Sending Strategic Petroleum Reserves to China as US Gas Prices Hit Historic Levels
While demented Joe Biden berates gas station owners for high gasoline prices, his illegitimate regime is selling the U.S. Strategic Petroleum Reserves (SPR) to Europe, India and China, as Reuters reports.
"More than 5 million barrels of oil that were part of a historic U.S. emergency reserves release to lower domestic fuel prices were exported to Europe and Asia last month, according to data and sources, even as U.S. gasoline and diesel prices hit record highs", Reuters writes.
"About 1 million barrels per day is being released from the Strategic Petroleum Reserve (SPR) through October," Reuters wrote. "The flow is draining the SPR, which last month fell to the lowest since 1986. … Cargoes of SPR crude were also headed to the Netherlands and to a Reliance refinery in India, an industry source said. A third cargo headed to China, another source said."
In December Joe Biden announced he was going to open the US oil reserves. This was after he spent the last year blocking pipelines and production here in the United States.
TRENDING: IT'S HAPPENING! HE'S BACK! President Trump Releases Video of Revamped Plane — Includes SECRET PHOTOS of TRUMP 2024 FLAGS in Background! –VIDEO
The Gateway Pundit reported back then that the oil reserves were expected to go to India and China.
And that is exactly what happened.
The Biden crime family has received $31 million from companies tied to the Chinese Communist Party's Ministry for State Security. The only explanation for the Biden Regime's treasonous actions in wartime is that they are "intentionally trying to harm the United States", said Tucker Carlson. "If that's not an indictable offense, it's certainly an impeachable one."
Breitbart News Daily Podcast Ep. 171: Biden Sends Strategic Oil Reserves to China, Boris Johnson Steps Down; Guest: Dr. Sebastian Gorka
Joe Biden has tapped America's strategic reserves and sent the oil to China (and a bunch of other places around the world). He should be impeached and, at a minimum, should offer an explanation for this, but he won't. And we'll all continue to pay exorbitant amounts at the pump. Host Alex Marlow breaks down the latest economic and political headlines before launching into today's "Woke Update," which features NPR using your tax dollars to "queer" our youths (whatever that means). Also, climate crazies blocked the Beltway and did their best to ruin at least one man's life in the process. That story and more in Alex's opening. Then, Alex speaks with Dr. Sebastian Gorka about Boris Johnson's resignation as the United Kingdom's prime minister. He also gets Gorka's thoughts on the Biden administration's latest failings and the rest of President Joey's agenda, which now apparently includes trying to provide more taxpayer funded abortions for illegal aliens.
The Breitbart News Daily Podcast runs Monday through Friday as a "Director's Cut" of the SXM Patriot radio show. Hosted by Breitbart Editor-in-Chief Alex Marlow, you'll hear Alex's take on the big political stories, interviews with various newsmakers, and the Patriot "Caller of the Day."
Republicans Slam Biden for Allowing America's Emergency Oil Reserves to Be Sent to China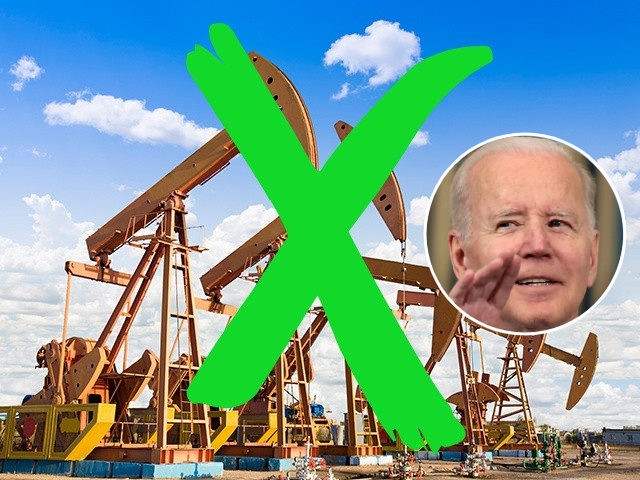 Republicans slammed President Joe Biden after a report revealed that American oil he ordered to be released from the Strategic Petroleum Reserve (SPR) is being shipped to China, blunting the effect the release was supposed to have on lowering gas prices in the United States.
According to a recent Reuters report, the more than five million barrels of oil – part of a historic release from the reserve – was exported to China and several other foreign countries last month, "blunting the impact" on U.S. gas prices, which have reached record highs during that time.
Not only has the release of the oil not had the intended effect on U.S. gas prices, but it is draining America's emergency reserve, which last month fell to the lowest since 1986, according to Reuters. About one million barrels a day are being released through October, according to the report.
"If reports are accurate, it is OUTRAGEOUS that Biden is sending millions of barrels of oil from the Strategic Petroleum Reserve to countries like China," Rep. Vern Buchanan (R-FL) tweeted.
"The American people deserve to know why they are paying $5 a gallon for gas while our emergency reserves are sent overseas," he added.
Rep. Tom Tiffany (R-WI) tweeted: "Just when I thought Joe Biden's energy policies couldn't get any worse, his administration is reportedly shipping America's Strategic Petroleum Reserves to Communist China while hardworking Americans continue to pay $5 for a gallon of gas. C'mon man!"
The American Energy Alliance also slammed Biden.
"Beyond parody. @JoeBiden drains the #SPR and China buys up any excess oil driving UP #gasprices!" the organization tweeted.
The group also linked to a piece published in June highlighting that the U.S.'s oil reserves are helping to fortify the energy security of China — America's top adversary:
China has also refused to play Biden's game. Biden thought he had coordinated a global effort to release more than 1 million barrels per day of strategic oil reserves in order to reduce gasoline and diesel prices since he expected those reserves to be refined and sold to consumers. However, for every barrel of reserve the President has sold, China has taken a barrel off the global market, adding it to Chinese stockpiles. China's stockpiling eliminated any benefit to U.S. consumers from the SPR release, instead reducing U.S. energy security while strengthening China's energy security.
In addition to China, SPR oil also went to Italy, which sends oil to refineries in central Europe, the Netherlands, and India.
"Crude and fuel prices would likely be higher if (the releases) hadn't happened, but at the same time, it isn't really having the effect that was assumed," Matt Smith, lead oil analyst at Kpler, told Reuters.
Meanwhile, President Joe Biden has tried to redirect blame to oil companies and gas station owners for not lowering gas prices, earning a rare rebuke from Amazon CEO Jeff Bezos.
"Ouch. Inflation is far too important a problem for the White House to keep making statements like this. It's either straight ahead misdirection or a deep misunderstanding of basic market dynamics," he tweeted.