China inks several new deals with Samoa

ahead of Pacific Island economic forum in Apia
China has signed as many as seven new agreements with Samoa ahead of a special summit on China-Pacific Islands economic cooperation in the Samoan capital Apia.
Key points:
Details are yet to fully emerge, but the agreements cover education and trade

Samoa is hoping to boost its exports to $160 million per year

The summit comes as China looks to increase its presence in the Pacific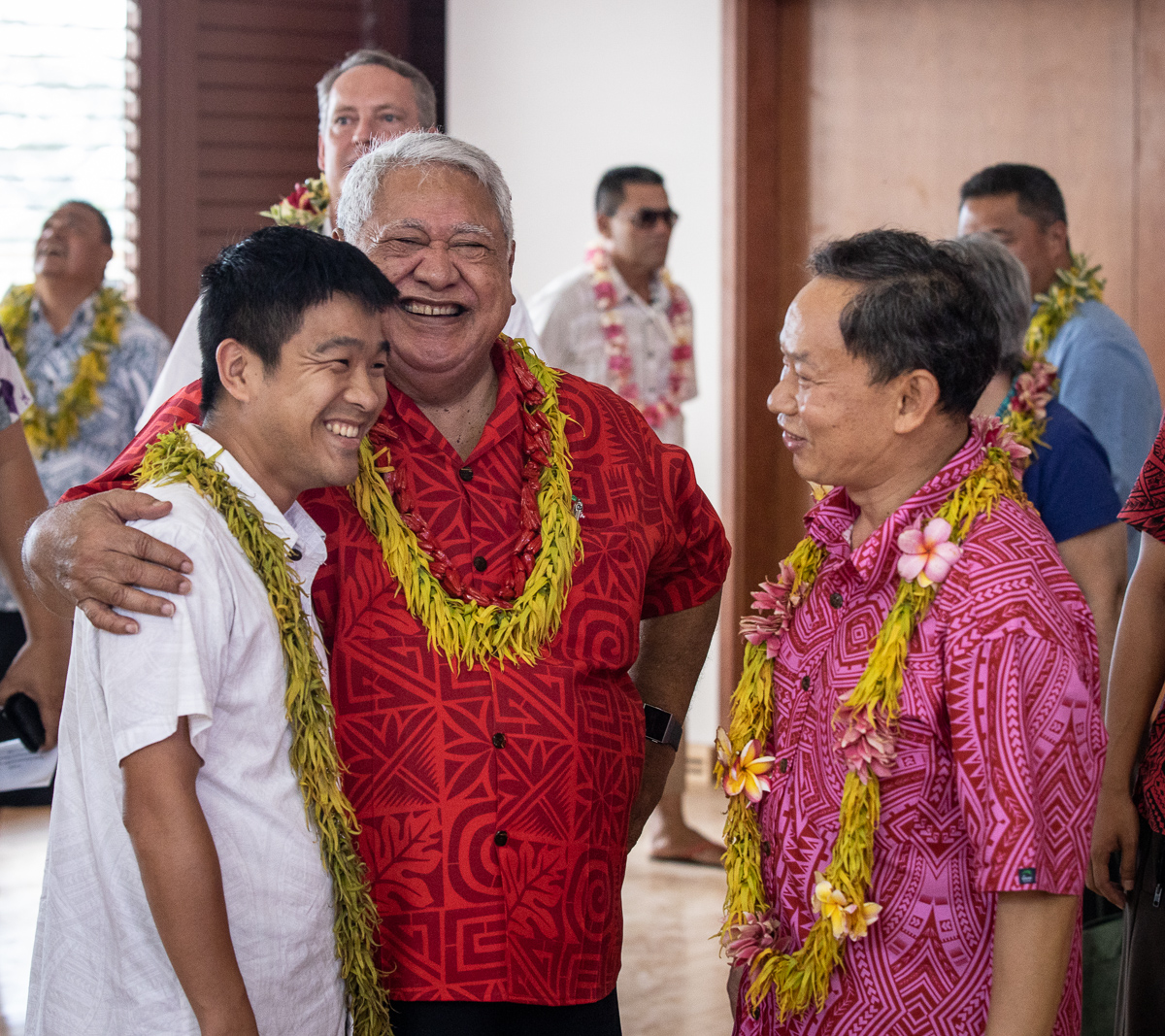 The new agreements between China and Samoa were signed after a bilateral meeting between Mr Hu and Samoan Prime Minister Tuilaepa Sailele on Saturday.
They cover a range of areas, including education, e-commerce, investment, infrastructure and agriculture.
One of the agreements covers the inspection, quarantine and sanitation requirements for wild-caught fish exports — an area of particular interest for Samoa.
At an export summit on Friday ahead of Mr Hu's arrival, Mr Tuilaepa announced his Government's plan to make Samoa a regional hub for fish and agricultural exports.
The Pacific Island nation is looking to increase the value of its exports to $160 million a year, and the Government says it is on track to export about $50 million worth of goods this year.
During his speech at the welcoming banquet on Sunday night, Mr Tuilaepa said the summit would pursue better trade cooperation between China and Pacific Island nations, including by bringing Chinese businesses to the region.
Representatives from about 200 companies are reported to be in Apia for the forum and related events, including heavy-hitters such as the Chinese online shopping giant Alibaba.
China's growing influence in the spotlight
Mr Hu has brought a large delegation with him, including 31 senior officials, with seven vice-ministers and 12 directors-general among them.
Dame Meg Taylor, secretary-general of the Pacific Islands Forum, told the summit countries in the region were aware of the "intensifying geopolitical engagement" that was taking place, but the focus must be on delivering results.
She said climate change mitigation and adaptation were two core areas where China could boost its engagement with the Pacific.
"China, as the world's second largest economy, can be an important ally for the Pacific region … by taking a lead in escalating its ambition level and its commitments under the Paris Agreement."
Chinese state-owned tabloid The Global Times reported that Taiwan was "very nervous" ahead of the meeting, concerned that its four remaining Pacific allies would consider following suit.
The Samoan Government said representatives from eight other Pacific Island nations would be attending today's forum, however the Pacific countries who recognised Taiwan would not be represented.
The summit itself was only due to run for two hours, with attendees expected to sign a "program of action" on economic and development cooperation at the end of proceedings.
Details of the contents of that program of action are yet to be released.
................................................................................................................
China Represents Potential New Source Market for Tourism in Samoa
China Represents Potential New Source Market for Tourism in Samoa November 27, 2013 Asia, Industry News, New Zealand The Chinese delegation upon their arrival into Samoa The first official familiarisation visit of Chinese tour operators landed in Apia this week, with a delegation of ten influential figures from the Chinese travel industry visiting major tourist sites across the country. Coordinated by Samoa Tourism Authority (STA), the visit marks a combined effort to grow tourist arrivals to Samoa from the world's fastest growing source market, which so far this year has generated 100 million outbound tourists. In 2012, 88% of Samoa's visitors were from New Zealand, Australia or other South Pacific Islands, a region with a combined population of less than 30 million. With changing global tourism trends and rising competition in traditional markets, more South Pacific destinations including Samoa have recognised the potential of China, which was the number one tourist source market in the world in 2012 and is now a major source market for Australia, New Zealand, Maldives and also Fiji. The tour operators visiting Samoa this week were responsible for 1.25 million outbound tourists in 2012. This high calibre group had the opportunity to meet and discuss potential tour packages with local inbound operators and accommodation providers throughout their visit. "With an increasing GDP, the number of Chinese outbound tourists continues to increase and there is an emerging trend of Chinese visitors wanting and demanding to explore new and exciting destinations like Samoa", says President of China Environment International Travel Service, Mr Zhong Hui. An influential figure in the Chinese travel industry, Mr Zhong said he is "very confident in Samoa attracting more and more tourists from China". Supported by the International Finance Corporation and South Pacific Tourism Organisation, the visit is a key stepping stone in developing a marketable product for the rapidly growing Chinese outbound market. The visit follows a request from Government and last month's Chinese media visit to Samoa, where a group of notable media representatives travelled throughout the country capturing footage for the promotion of Samoa in China. "Tapping the China travel market is a tangible goal for Samoa. However, Samoa is not a low cost destination, and visitors from China are likely to represent a well-heeled, well-travelled market niche interested in adventure and culture-based travel," said Dina Nicholas, Team Leader of IFC's Pacific Regional Tourism Program. "As the market grows, the tourism industry in Samoa will adjust to a relatively demanding group of new tourists." "Samoa, which is an Approved Destination for Chinese, acknowledges with appreciation the assistance of the IFC as a key partner in this initiative and as well as the SPTO and private sector members which hosted the group" said Samoa Tourism Authority CEO Papalii Matatamalii Sonja Hunter. Papalii encouraged the private sector to capitalise on the leads presented and mentioned that this is part and parcel of STA's ongoing efforts to enhance trade awareness in China.