June 2014
Above: Antigua PM Gaston Browne and Director of Yida International Investment Antigua Limited, Yida Zhang, sign the agreement on Friday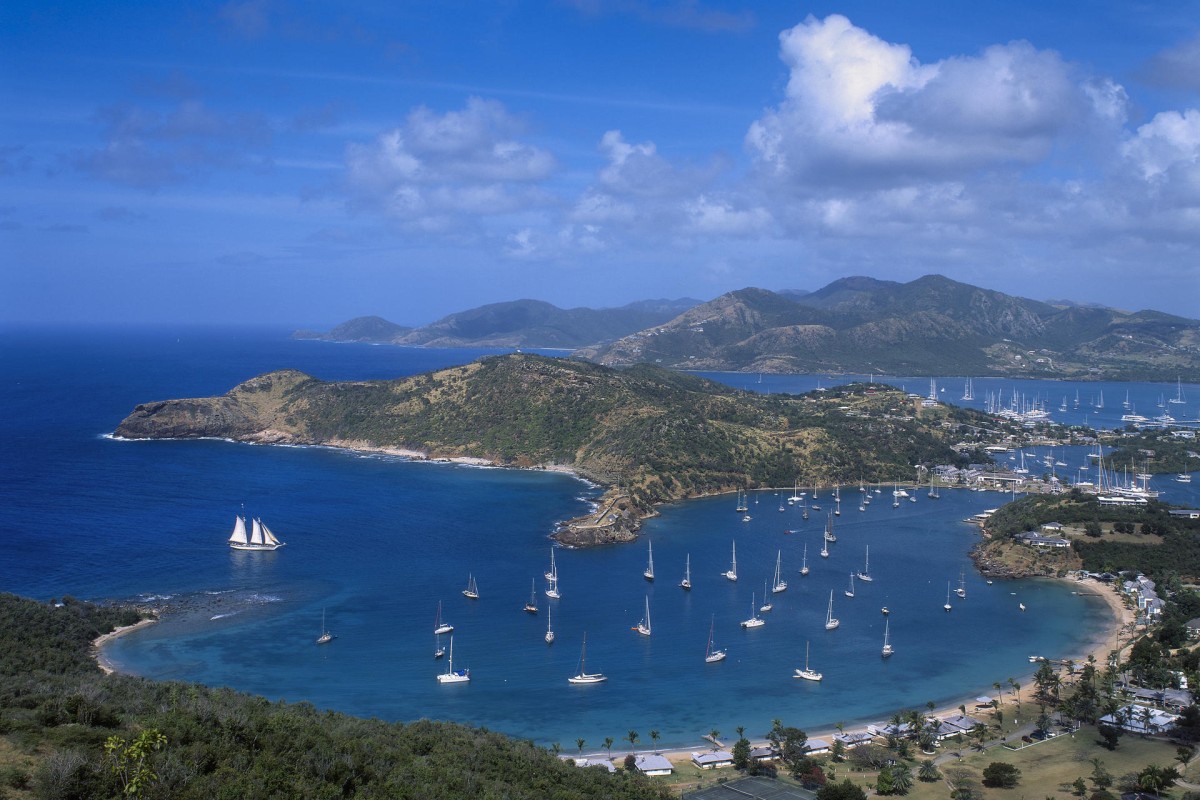 Antigua and Barbuda's government says it has signed a memorandum agreement with a Chinese company for a $740.7 million USD mixed-use tourism-focused investment project.
If realized, the project, led by investor Yida Zhang, would be the largest in the region since the similarly China-backed Baha Mar project, which is set to be completed in December of this year.
The deal with Yida International Investment Antigua was a major prong of new Prime Minister Gaston Browne's campaign platform, and it was signed soon after Browne was sworn in on Friday.
The deal would develop Antigua's Guiana Island and surrounding areas with 5 five-star hotels, 1,300 residential units, a casino and conference centre, a 27-hole golf course, a marina and a commercial/retail/sports facility.
The land would be purchased from the liquidators of the former assets of Ponzi schemer Allen Stanford, who was convicted in 2012 and is currently serving a 110-year sentence.
The land reportedly includes Guiana Island, the Crump Peninsula and a pair of smaller islands.
"I promised the people that my administration would bring the type of investments to the country that will transform Antigua and Barbuda into an economic powerhouse and I am serious about that promise," Browne said following the signing. "This Memorandum of Agreement is the result of our determination to work in the interest of the people of the country."
The government said that Yida would be investing more than EC $200 million annually in Antigua and Barbuda over the next 10 years, along with providing "an Antigua and Barbuda presence in the People's Republic of China to attract additional economically viable investments."
............................................................................................................................................
Above: the groundbreaking last week
Just a few days after a $300 million project broke ground in Antigua and Barbuda, an even larger one has now launched.
The YIDA project, the agreement for which was signed just after Antigua and Barbuda Prime Minister Gaston Browne took office last June, broke ground on Guiana Island at the end of last week.
The project has an estimated investment of $740 million, according to the government.
Led by Chinese investor Yida Zhang, follows the Baha Mar as the region's largest development project.
IT is slated to include two five-star hotels, 1,300 residential units, a casino and conference centre, a 27-hole golf course and a marina, among other features.
The "internationally-branded resort" is slated to begin before the end of this year, according to Tourism Minister Asot Michael.
The government said Yida International had already paid $70 million to help bring the project to the groundbreaking stage.
"The Guiana Island project will enlarge the number of hotel rooms, but it will be much more than a hotel," Michael said. "Making Antigua a hub for the YIDA Group's strategy of growing its investments in the Americas, will mean more office space, more cargo and traffic, more jobs for our youth, and more economic activity following years of economic decline."
..................................................................................................................................
Antigua and Barbuda Hope to Become 'Economic Powerhouse' With Help From China
.........................................................................................................................................................
Caribbean Countries turn to China's Belt & Road
China's ability to connect Caribbean Nations to the Maritime Silk Road is an important barometer of the Belt & Road Initiative's (BRI) global applicability.
In recent years, the United States has become an absent steward over the Caribbean. Aid is dwindling, ambassador posts remain empty, and a chorus of Caribbean leaders are showing a willingness to accept BRI funding as a way to meet badly needed infrastructure improvements.
Beijing is throwing a lifeboat to many small Caribbean nations, attempting to sell its model of development to a region saturated with US influence. The increasingly prominent Chinese presence, coupled with generous and sometimes exorbitant loan terms is promulgating fears that Beijing is laying a 'debt trap' to secure assets such as land in the United States' backyard.
But seeing the BRI as a real-estate grab is short sighted and rehashes Cold War warnings that Chinese money comes with uniquely sinister strings attached. As a study from the Rhodium Group shows, China re-negotiates loan terms far more often than it seizes assets, as in the oft-cited Sri Lankan Hambantota Port.
Western fears about Caribbean nations being saddled with Chinese debt are selective. As recently as 2012, Jamaica's debt was 147 per cent of its GDP, but most is owed to Western lending institutions like the IMF, the World Bank and the Inter-American Development Bank. Money from Beijing's EXIM Bank only accounts for 3.9 per cent of Jamaica's overall debt, even though the country is China's largest trading partner in the Caribbean.
The Caribbean Development Bank estimates that the region still needs a further US$30 billion in infrastructure. China is attempting to show it is best-suited to meeting these needs through low interest rates and a steady flow of cash.
A number of Caribbean nations; including Antigua and Barbuda, Jamaica, Guyana, Barbados and Trinidad and Tobago have agreed to officially join the BRI.
Guyanese President David Granger captured the cycle many small Caribbean nations face: 'We cannot develop without infrastructure and we just do not have the capital to do it on our own. So whether it comes from America, China or Britain, we have to have it and of course we have to look for the best deal'.
Off the shores of the Bahamas, a Hong Kong business has spent US$3 billion to complete the Freeport Container Port, a deep-water port capable of handling Chinese super tankers travelling through the Panama Canal.
The China Harbour Engineering Company (CHEC) has built roads zigzagging through Jamaica, including a US$730 million highway linking Kingston to Ocho Rios, and has earmarked another US$348 million for a highway along the underdeveloped southern coast. In Guyana, the CHEC is working on a US$150 million expansion of the Cheddi Jagan International Airport.
China's goals in the Caribbean are a mix of political and economic. A stable US economy under girds the markets of the Western hemisphere so it is unlikely that Beijing sees direct competition with the United States in the Caribbean as in its best interests. But the Caribbean is home to over half of Taiwan's remaining diplomatic allies and the BRI's 'One China' pre-requisite may help Beijing further isolate Taipei.
China has pledged billions to revamp infrastructure in the capital of Haiti, one of Taiwan's oldest allies. Haitian President Jovenel Moise's regime has signalled that its friendship with Taipei should not be taken for granted: 'Taiwan is a long-time friend … [but] Haiti is looking for where its interests lie'.
The Caribbean is also home to growing deposits of oil, bauxite and magnesium. China is becoming entangled in Guyana's natural resource wealth. As many as 4 billion barrels of oil have been found off the coast of Guyana, making the nation poised to become a serious oil producer. The China National Offshore Oil Corporation owns 25 per cent of potential oil findings in the country, while the Bosai Mineral Group is expanding magnesium and bauxite operations. In Jamaica, Jiuquan Iron and Steel announced plans in 2019 to invest over US$3 billion in an aluminium refinery and smelter, adding to a US$300 million refinery purchased in 2016.
While the United States is working to keep

Huawei

from operating within its borders, the embattled Chinese tech firm is weaving a digital silk road. In partnership with the Caribbean mobile phone company

Digicel

, Huawei has agreed to expand 4G and 5G coverage to Jamaica, Trinidad and Tobago, Barbados and Guyana. Huawei Marine, a subsidiary of the tech giant, has laid over 3500 kilometres of underwater cables from the Bahamas to Haiti.
Concerns about Chinese debt should be linked to the question of whether BRI investment spurs domestic growth. Chinese companies have a mixed performance at best and have been accused of wanton environmental policies, flouting local labour laws, and an inability to successfully complete proposed projects in a timely manner.
Beijing's efforts are further undermined by the United States' moves to keep Chinese influence at bay. Washington has warned Caribbean leaders against cosying up to China and promised to renew investments and attention in Venezuela.