China's Subversion

of the United Nations
Contrary to allegations of growing influence under Trump, China has been working at it for decades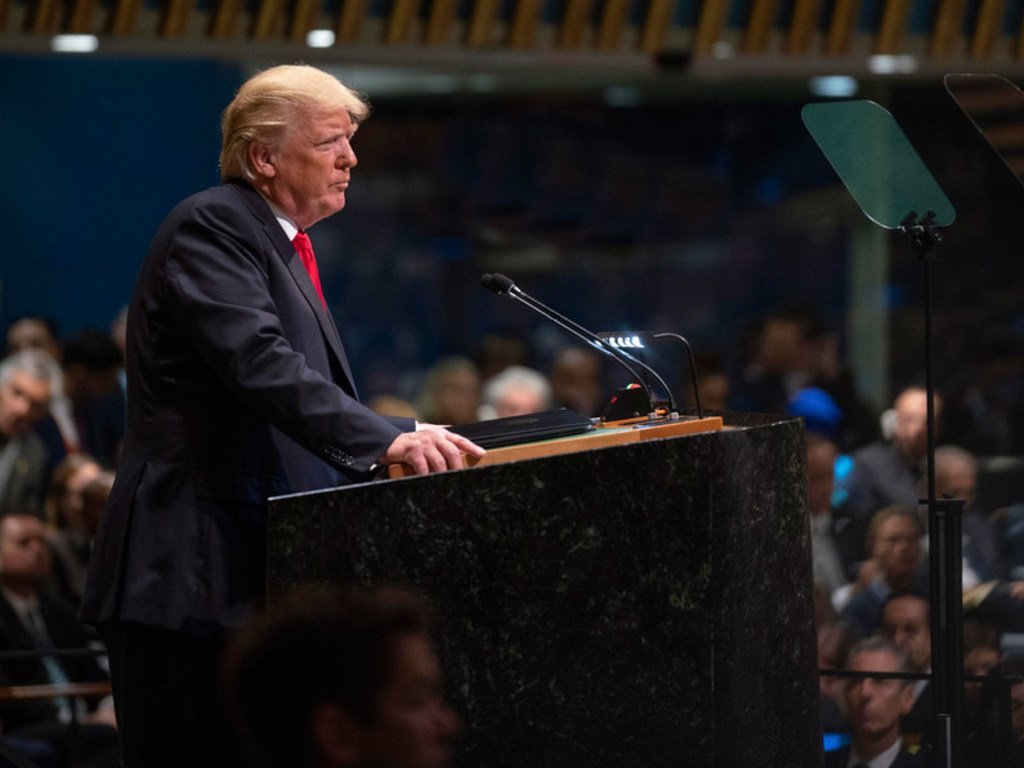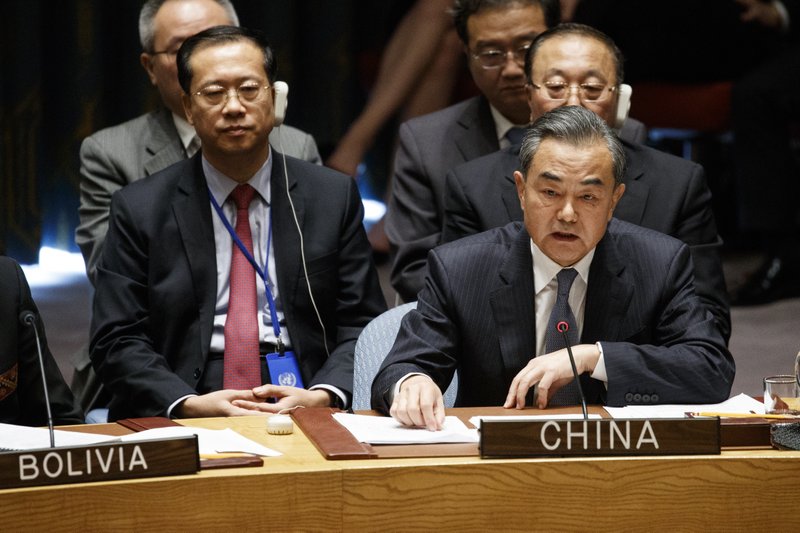 Beijing's hugely expanding influence within the United Nations and other organs of "global governance" began long before President Donald Trump took office.
In fact, experts and officials tell The Epoch Times that Trump is the first president in decades to seriously attempt to rein in Beijing's scheming on the world stage.
At this point, though, it's like trying to stop a freight train.
In his speech at the U.N. General Assembly this week, Trump took direct aim at China, warning that the administration was closely monitoring the situation in Hong Kong. The president also called for an end to religious persecution—a problem that is rampant in China as Christians, Muslims, Falun Gong practitioners, and others are targeted by the one-party state.
Trump also made clear that, regardless of the ambitions of the U.N. and many of its increasingly influential member states, the future doesn't belong to globalists seeking more U.N. control over humanity, but to patriots and independent nations. While China has long advocated a stronger U.N. with more powers and money, Trump is putting the brakes on that agenda.
Nevertheless, there is a strong effort to paint Trump as the chief culprit in the ascendance of China within international organizations. With Communist China accumulating more and more power over the United Nations—already almost one-third of U.N. specialized agencies are led by Chinese agents loyal to Beijing—there is a growing push to blame the Trump administration. Multiple journalists and analysts have advanced the view that Trump's reluctance to be more active in global institutions is responsible for the trend.
During the Obama administration, the U.N. General Assembly "was a centerpiece of U.S. global leadership," with Obama advancing global initiatives on everything from climate change to migration.
But today, thanks to Trump's anti-globalist views, that's no longer the case—or so the emerging narrative goes.
"The United States has let go of the wheel, and Beijing stands poised to take hold of it," wrote Kristine Lee, a fellow with the Center for a New American Security, in the CFR's flagship journal. That is because the Trump administration has responded to China's "rising profile in only a piecemeal fashion," she said. The supposed solution: Trump must quit scaling back U.S. involvement in the U.N.
It wasn't the first time that writers in Foreign Affairs made the argument, but it was perhaps the most clearly articulated. In addition to Foreign Affairs, the journal Foreign Policy has been peddling a similar narrative regarding Trump, China, and the U.N. in various articles and analyses. In some circles, the hypothesis is almost accepted as true at this point.
Ironically, though, the reality is almost exactly the opposite, experts say. Indeed, Beijing's growing clout on the international stage actually has its genesis in U.S. foreign-policy decisions going back many generations, most of which were made by members or allies of the Council on Foreign Relations.
Among the key events that led to the present situation: The U.S. decision to betray Chiang Kai-shek; President Richard Nixon and then-national security adviser Henry Kissinger's infamous decision to "open up" China in the early 1970s; the replacing of Taiwan with the People's Republic of China on the U.N. Security Council; President Bill Clinton's transfer of sensitive U.S. military technology and welcoming Beijing into the World Trade Organization; and other similar policies.
Under Trump, however, things began to change. A former senior Trump administration official involved in international affairs, who spoke with The Epoch Times on the condition of anonymity due to the sensitivity of the matter, categorically rejected the notion that Trump was somehow to blame for what has been going on for decades.
Under the Obama administration, the growth of Communist Chinese influence surged like never before. For instance, Chinese-funded "trust funds" set up inside U.N. agencies proliferated almost unchecked, with these off-the-books slush funds serving to expand Beijing's influence within international organizations. The administration knew, but did little to counter it.
The U.S.-China Joint Announcement on Climate Change in 2014, meanwhile, "sent a clear signal to China of Obama's State Department implicit or tacit acceptance of China's increased power and role in the U.N.," the former senior official said, adding that the Obama administration poured billions into U.N. efforts in its final year, much of which was intended to be used to promote Chinese interests.
However, upon taking office, Trump promptly reversed those decisions, having previously argued that climate alarmism was a Total "hoax" especially benefiting Beijing.
"Clearly and objectively speaking, the Obama administration—especially the Obama State Department—is to blame for China's rise in U.N.," the former senior official continued, adding that many of the Obama-era officials remain entrenched at the State Department to this day.
One major problem, insiders tell The Epoch Times, is that appointments of the president's senior officials were dragged out for nearly two years. When they finally arrived at their posts armed with a plan to rein in Chinese influence, the "entrenched bureaucracy resisted the Trump administration's bold steps to counteract the Obama policy," the former senior official said.
As part of that, Trump's assistant secretary of international organizations and his senior adviser, among others, were the subject of relentless resistance and targeting.
It's undeniably true that Communist China plays a leading role in the U.N. today. Its agents run four of 15 specialized U.N. agencies, including the International Telecommunications Union (ITU), the International Civil Aviation Organization (ICAO), the Industrial Development Organization (UNIDO), and the U.N. Department of Economic and Social Affairs (UN DESA). By comparison, just one American holds a top post in a U.N. specialized agency.
Most of those leadership positions for Communist Chinese agents, though, were secured on Obama's watch. Numerous other top spots for Chinese agents also occurred during the previous administration: Xue Hanqin's selection to the International Court of Justice, Tao Zhang's appointment as deputy chief of the International Monetary Fund in August of 2016, and Yi Xiaozhun's 2013 appointment as deputy leader of the World Trade Organization, among so many others.
Just this year, reportedly using bribery and threats, Beijing managed to seize control of the powerful U.N. Food and Agriculture Organization (FAO), despite Trump administration efforts to block that. Years earlier, though, Americans working within and around the U.N. agency warned about Chinese "trust funds" within FAO, as well as that Beijing would be running a candidate to take over the agency. A senior Obama State Department official intervened to keep it quiet, the former official said.
Unlike individuals from most nations, and contrary to U.N. employment policies, Chinese officials openly retain their loyalty to the Communist Party above all else, which is hardly a secret. When the regime arrested then-Interpol chief Meng Hongwei last year, it publicly accused him of failing to obey Communist Party orders, among other supposed crimes.
In peacekeeping, the trend is obvious, too.
"China has used its dominant position in providing volunteers for United Nations peacekeeping missions to help advance its broader power agenda, especially in Africa," Rick Fisher, a senior fellow at the International Assessment and Strategy Center focused on China, told The Epoch Times.
Beijing is now working to install Andy Tsang as head of the U.N. Office on Drugs and Crime, while plenty of other Chinese operatives also are being groomed for senior posts across the U.N. Beijing's agents lead key U.N. conferences as well, with CCP propaganda organs boasting that Beijing played a "crucial role" in the U.N. Agenda 2030 sustainability plan for humanity.
The Chinese Communist Party (CCP) has a long-range plan that very much includes the U.N. In recent years, the regime even opened a "School of Global Governance" at the Beijing Foreign Studies University (BFSU) to train armies of future diplomats and spies to work in international organizations. Last year, Chinese leader Xi Jinping said Beijing would take "an active part in leading the reform of the global governance system."
In short, Beijing is working to empower the U.N., and to empower itself within the U.N., at the expense of freedom and free nations everywhere, experts say.
Trump, by contrast, has been actively working to counter that. Since he's been in office, the U.S. government withdrew from the Chinese-influenced U.N. Human Rights Council, defunded the U.N. Relief and Works Agency (UNRWA), withdrew from UNESCO, reduced U.S. contributions to the U.N., implemented a strategy to actively deal with Chinese influence within international organizations, and much more. It has also objected to all references to U.N. "international law" in deference to U.S. sovereignty, ensuring that Chinese-influenced U.N. policies have less of an impact on Americans.
When reached by The Epoch Times, Lee, the writer at Foreign Affairs who implied that the current administration's policies are to blame for China's rise in the U.N., argued that it really isn't about "blaming specific presidents." Instead, she suggested that "it's part of broader trendlines that can largely be attributed to Xi Jinping's growing consolidation of power."
"The CCP is moving quickly to expand its influence, and the United States is largely playing defense and is still in the early stages of formulating a response," she told The Epoch Times in an email. "I agree that the Trump administration's foreign policy establishment—certainly at the working level—is acutely attuned to the CCP's influence efforts abroad. But the U.S. government's work has only just begun."
There are different visions for how to rein in Communist China. At the CFR, the view is that the U.S. government should further empower the U.N. and work to counter Chinese influence within it, by handing over more U.S. tax money.
The Trump administration, however, appears to view neutralizing the U.N.'s efforts to expand its power and influence as a more viable strategy, thereby minimizing the value of the U.N. to Beijing and other authoritarian regimes that are gaining more and more power in global institutions.
Former U.N. investigator-turned-whistleblower Peter Gallo, who has decades of experience in Asia, told The Epoch Times that the U.N. process for selecting and promoting officials is "rigged," and that corruption—especially involving China—runs rampant. That means the U.N.'s senior leaders would do everything possible to avoid appointing a Trump pick anyway, since he or she may seek to increase accountability and cut the budget.
The U.N. also bends over backward to avoid embarrassing China, Gallo said.
"Possibly the best example of that involves how the U.N. High Commissioner for Human Rights was caught handing over names of Chinese human rights activists to the Chinese government, so the Chinese police and security agencies could go and intimidate their relatives in China, all to ensure that nobody spoke out against China being elected to the Human Rights Council," he said, adding that the highest levels of the U.N.'s leadership intervened to block accountability.
"If Trump is guilty of anything, he is guilty of not publicizing that," added Gallo, who worked as an investigator for the U.N. Office of Internal Oversight Services before becoming a whistleblower and helping to create the nonprofit organization Hear Their Cries. "How can Trump's policies be responsible for China or any other sovereign nation taking advantage of an organization as venal and corrupt as the U.N.?"
Neither the U.S. State Department nor U.N. Secretary-General Antonio Guterres' spokesman responded to a request for comment by press time.