Chinese trafficking of exotic animals flourishes in Bolivia's Amazon
Trinidad, Bolivia — Under the intense humidity and hustle and bustle of everyday life in the Amazon region of Bolivia, a river of exotic smuggled exotic animals flows towards Asia.
In collaboration with the local prison system, Chinese citizens have created a thriving industry that forces prisoners to manufacture products such as wallets, hats and wallets. Threatened Exotic animals.
In Bolivia, it is illegal to kill, consume or traffic wild animals. Crimes can be punished with up to 6 years in prison.
Members of Putian, a Chinese crime syndicate, traffick and sell jaguar teeth, fur, and body parts in several Amazon towns in the Beni and Santa Cruz divisions.
The operation was initially exposed during a 2018 undercover investigation by the Earth League International and the International Union for Conservation of Nature (IUCN). The study revealed how Chinese immigrants living in Bolivia worked with members of Putian to buy Jaguar for the sale of teeth, organs and skins in China.
An estimated 130,000 jaguars remain in the world and are considered endangered. In Bolivia, the number has dropped to 2000-3000.
IUCN figures reveal that between 2014 and 2016, 200 creatures were killed by traffickers. By 2018, an additional 140 were killed by criminals, which could be as high as 340.
Five Chinese were arrested in the city of Santa Cruz after a three-year investigation by the Bolivian Ministry of Public Affairs and the Forest and Environmental Protection Police. Trio was arrested for selling Jaguar parts from behind a fast-food chicken restaurant.
However, despite these efforts, exotic animal trafficking continues in Bolivia, creating a difficult battle for conservationists.
"The law is on our side, but it's difficult to enforce," Jorge Eisa Laposo Karau, director of wildlife and natural resources at Beni, told The Epoch Times.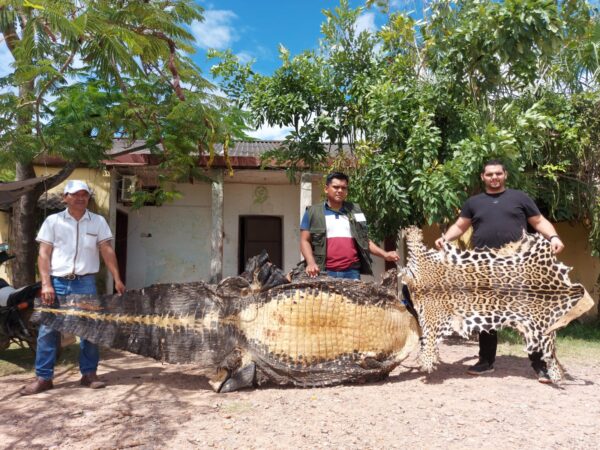 By the skin of their teeth
Karau's office has a banner behind the desk that says "No Wildlife Trade or Capture" and a free hotline number for calling and reporting on animal trafficking. increase.
"It wasn't always the case," Karau gestured to the banner.
"Until recent years, the only reason locals hunted jaguars was to protect cattle and children when trying to attack the village."
Karau says China's business interests are driving demand for wildlife, especially Jaguar parts. As of August 2018, Bolivian authorities have confiscated a staggering 684 Jaguar fangs from Chinese smugglers. Of that number, Customs intercepted 119 at the border crossing.
Illegal wildlife exports $ 19 billion annually It is an industry around the world and offers too much profit for the underfunded locals to refuse.
This is evident in the stalls of black market sellers on the outskirts of Trinidad. At the end of the dusty road is the country market. Fruit and vegetable stalls line up with locals selling products made from illegally procured wildlife pieces.
A local woman named Brenda exhibited a variety of purses, hats, belts and purses made of jaguar fur, in addition to Puma, Anaconda and Caiman.
"Only foreigners buy this item," she told The Epoch Times, taking down a man's wallet made of jaguar fur and scrutinizing it.
Products made from illegal animal parts on display at Brenda's stalls were sold at retail prices. Prices ranged from $ 16 for a small men's wallet made of anaconda or black caiman leather to $ 150 for a Jaguar pelt cowboy hat or women's handbag.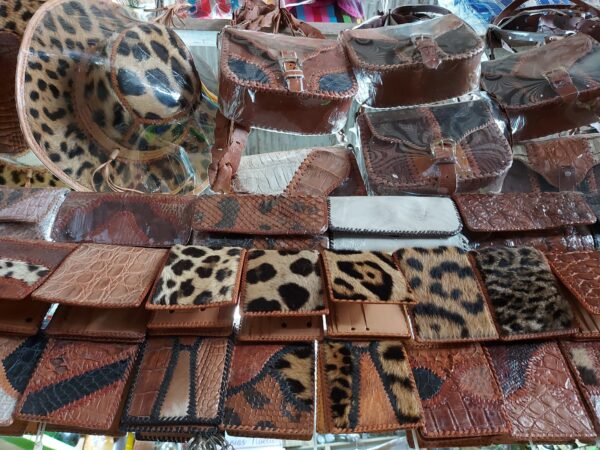 Brenda recognizes that customs may seize products made from wildlife parts when leaving the country, and that it is illegal to sell her goods at stalls. But he said he didn't seem to care.
After all, demand already exists, and Brenda argues that she is just one link in a series of symptoms that represent the fast-growing animal trading industry that China has brought to the region. I am.
However, she revealed that China is the main buyer of these items, but China is not the only player in illegal export games.
"Recently, I had a buyer from Spain and bought two Jaguar hats for a friend of a doctor at home," Brenda said.
She added that a local prison in Trinidad, run by the Bolivian government, fuels the animal trading industry. A prison called Mokobi participates in a program that forces prisoners to buy leather goods from a variety of animals, including illegal wildlife.
During ~ Live broadcast From BTV on September 26, 2021, a reporter interviewed a prison leather goods seller and revealed footage of a hat and purse made of illegal Jaguar fur.
In an interview, the seller claimed that the program was aimed at helping "rehabilitation of prisoners" and preparing for normal work after being released from prison.
And, ironically, this is done by forcing a convicted criminal to commit another crime, from the perspective of Bolivian law.
When contacted by The Epoch Times, officials from the Directorate General of the Prison System declined to comment.
Prior to the 2018 bust, Chinese traffickers were able to export small parts from Jaguar, especially Fang, fairly easily via the national international airport. However, as customs officials have begun to crack down on practices, opportunist smugglers are looking to alternative routes to get the coveted exotic animal items out of the country.
Some of these methods include the transfer of smuggled goods across borders to Brazil and the infamous "Death Corridor" in the desolate section of the Atacama Desert between Bolivia and Chile.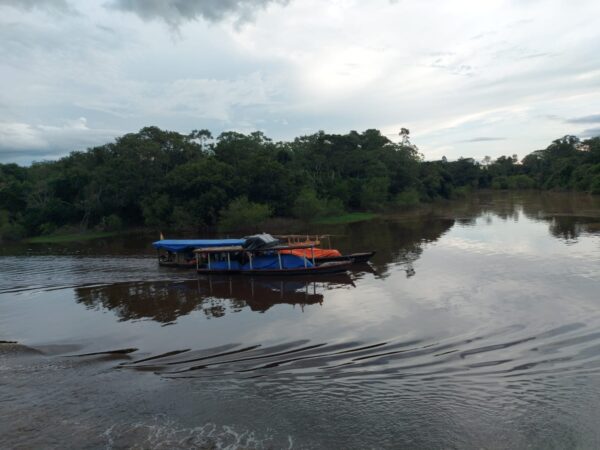 One of the biggest problems for conservationists is the size and relatively small population of the country's wilderness. Bolivia's population density is only 26 per square mile compared to neighboring Brazil, which is 62 per square mile.
This leads to a lack of law enforcement, especially in national parks where many of the country's wildlife and endangered animals live and poachers are free to operate.
"We are doing what we can, but we need more people," Karau said.
Dangerous myth
Jaguar hunting has grown with the tourism industry in the mountain river town of Rurrenabaque.
Adela Jordan, a local eco-lodge operator and landowner, has seen the mindset of locals change over the years as China's money and influence permeate the region.
"They are predators [China], They consume everything they see. Land, animals, rivers, trees, everything, "Jordan told The Epoch Times.
She explained why ranchers in the area began aggressively hunting jaguars after the Chinese people showed an interest in buying teeth and other body parts.
About 20 miles away is the city of Reyes, and Jordan said another black market thrives, offering products made from wildlife, including jaguars.
"Very many [locals] I'm a poacher here, "she lamented.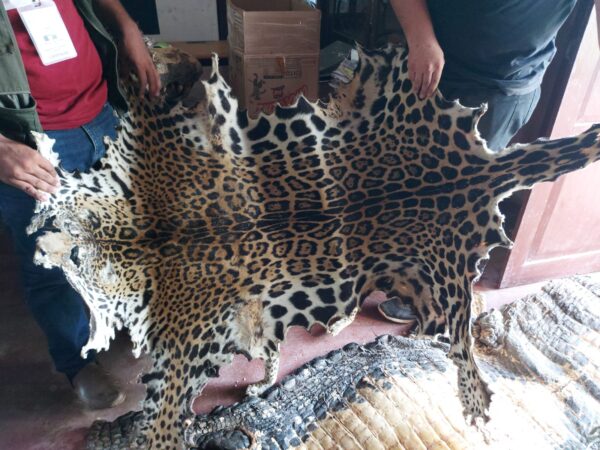 The thriving undercurrent of trafficking is in contrast to Rurrenabaque's international fame, Madidi National Park.
Crouching on the edge of the last expanse of the pristine Amazon wilderness, the town's tour operators offer a three-day to one-week deep jungle adventure and wildlife spotting tour reminiscent of an African photo safari.
However, this money has proven too attractive for locals to let go, as Chinese criminals are offering Jaguar fangs $ 100 to $ 400 per tooth.
The myths surrounding good luck, good luck, protection and vitality allegedly provided by Jaguar's teeth are an extension of the existing Chinese belief that the Asian tiger piece offers the same benefits and are at the heart of demand.
In addition, there have been deliberate but unplanned rescue attempts, and many released animals, including jaguars, live in cages for the rest of their lives.
Jordan described one such animal shelter near the town of Rurrenabaque. The shelter shot wild jaguars that invaded the premises and attempted to attack one of the captive animals of the rescue center.
"So what was the point if they had to shoot one of the animals they were trying to protect?" Jordan asked rhetorically.
Meanwhile, the multi-million dollar Amazon wildlife tourism industry exists in a strange juxtaposition with Chinese wildlife traffickers. Jaguar fangs are sold in the Chinese black market at prices of $ 2,000 to $ 3,000 per piece.
In 2018, a statement from the Chinese Embassy in Bolivia pleaded with citizens of South American countries to respect and "adher" to both Chinese and Bolivian laws and regulations against illegal trafficking of wildlife. Was issued.
The Minister of the Environment of Bolivia did not respond to the request for comment.
Jeanine Áñez