Malaysia Is

Fed Up With Chinese Cash
Belt and Road funding has become a bitter election issue.
By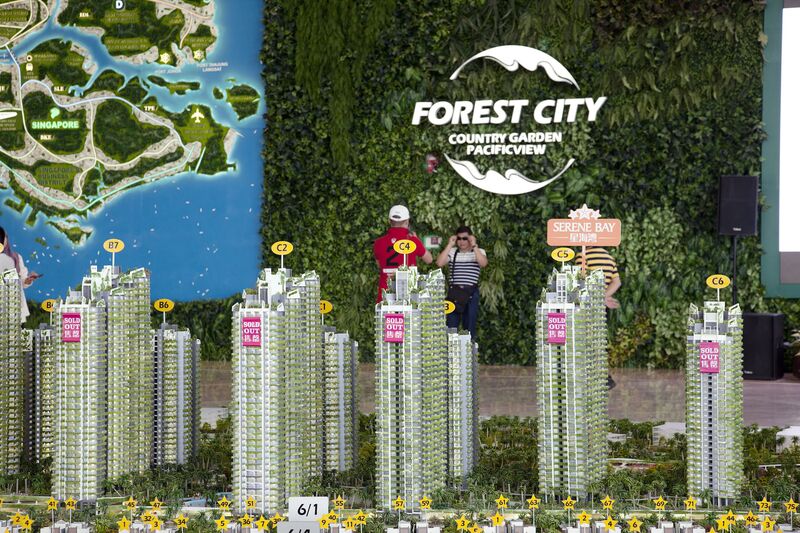 Chinese President Xi Jinping won't be on the ballot when Malaysians vote for a new government on Wednesday. But he is on election billboards. Although it's probably not a role that Xi would've chosen for himself, China's influence on Malaysia's economy has become one of the most bitterly contested issues in a bruising campaign.
That's certainly awkward for China, which presents itself as a champion of economic development around the world. Increasingly, though, its vision isn't shared. In Malaysia and elsewhere, popular opposition to Chinese investment is rising, driven by the perception that its benefits flow only one way. In that sense, Malaysia's election should be a wakeup call.
Until recently, Malaysia actually sent far more investment to China than the other way around. But in 2013, Xi announced his signature Belt and Road initiative, a $1.5 trillion infrastructure project spanning 80 countries. It's designed to knit distant markets more closely to China, while also spurring local development. Malaysia's strategic location on the Strait of Malacca, through which about 40 percent of global trade flows, makes it a prime destination for such investment.
And China has indeed invested. So far, there are $34 billion worth of government-backed projects underway, including a gas pipeline and the $17 billion (at least) East Coast Rail Link. China's private sector is splurging, too: Between 2012 and 2016, Malaysia received $2.37 billion in Chinese real-estate investment, ranking it third among Belt and Road countries. Chinese money is also pouring into manufacturing, energy, and metals, as well as logistics and e-commerce.
Malaysia's current government has welcomed these investments as needed infusions into an economy battered in recent years by low oil prices and scandal-driven financial uncertainty. But several factors have started turning Malaysians against them.
For one thing, there are widespread fears about how China is financing these big projects and whether Malaysia can actually meet its payments. Last year, Sri Lanka handed over its Port of Hambantota to Chinese state-controlled firms in return for $1.1 billion in relief from debts incurred building the port. That development wasn't missed in Malaysia, where China has been lending just as aggressively.
Chinese companies are also notorious for importing workers, equipment and materials from back home, rather than relying on local resources. In the case of Malaysia's rail link, the government has even cited language barriers to defend the practice. Similar complaints have been aired from Ghana to the Philippines.
Chinese real-estate investment, meanwhile, has spurred jealousy, sovereignty concerns and occasional xenophobia. Between 2012 and 2016, foreigners accounted for about 35 percent of residential land transactions in Malaysia, with Chinese making up the majority. Most notable is the massive Forest City development off the Straits of Johor, which is expected to eventually have 700,000 residents. So far, 70 percent of the buyers have been Chinese. The units, costing upward of $250,000, are out of reach for most locals.
Malaysia's opposition, led by former Prime Minister Mahathir Mohamad, hasn't shied away from exploiting these concerns. In a recent interview with Bloomberg News, Mahathir invoked both Sri Lanka's loss of Hambantota and the surge of foreigners into Forest City as reasons to scrutinize China's investment splurge. "No country wants to have an influx of huge numbers of foreign people into their country," he said.
It's a potent message. In 2015, Sri Lanka's president lost a reelection bid over accusations that he was too cozy with China, and his successor is now coming under similar attack. Although Mahathir is unlikely to unseat Prime Minister Najib Razak on Wednesday, his criticisms are taking a toll, as evidenced by the government's increasingly elaborate defenses of Chinese investment. No matter who wins, the Malaysian public will have become more cynical about China's role in its economy.
For China, that's surely an unwelcome development. But Belt and Road investment will become a divisive political issue in other countries unless China ensures that it doesn't become a burden for places that can ill afford it. That means lending on less onerous terms, hiring locally, and generally making sure that the benefits of its largesse are more widely shared.
Such steps won't make everyone happy. But they'll go a long way toward keeping Xi Jinping off of other election billboards