B.C. real estate leader warns Christy Clark
to use care in crackdown on 'shadow flipping'
BY DAN FUMANO, VANCOUVER SUN
MARCH 23, 2016
British Columbia Premier Christy Clark speaks about shadow flipping in the real estate industry as Coal Harbour condos tower above her in the distance, in Vancouver, B.C., on Friday March 18, 2016.
Photograph by: DARRYL DYCK , Vancouver Sun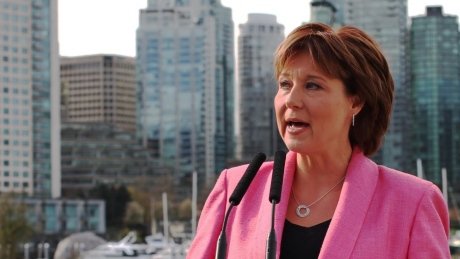 The head of Vancouver's real estate board has contacted Premier Christy Clark to express "concern" at her recent promise to crack down on the controversial practice known as "shadow flipping."
Darcy McLeod, president of the Real Estate Board of Greater Vancouver, wrote Tuesday to Premier Christy Clark in response to her announcement Friday that her government will "put new rules in place to prevent the potentially predatory practice of real estate contract assignment ─ so-called 'shadow flipping.'"
REBGV spokesman Craig Munn said McLeod's letter, obtained by The Province, was sent to the premier's office and copied to REBGV members, but not intended for public release.
The practice of assignment agreements, dubbed "shadow flipping," involves an agent reselling a property before a deal closes. The technique, brought to a wider audience last month by the Globe and Mail, has sparked controversy.
McLeod wrote that the board understands the intention to "curb speculation" in Vancouver's hot housing market, but warned of "unforeseen consequences associated with attempting to impose limitations on the market."
The letter raises concerns about "media hyperbole," adding that: "The media has not let facts get in the way of painting a negative picture of Realtors in this story of assignments. We have shared with them, but they do not report, that our organization has yet to receive a formal complaint from the public about assignments."
At Friday's press conference, Clark said she was "

very much looking forward" to hearing back from the advisory group, adding:

"The vast majority of realtors in British Columbia are conscientious and professional, honest people, but we also know that there are a few shady operators."
Those "shady operators" should be of greater concern to real estate industry association leaders, said NDP housing critic David Eby.
Eby pointed to a statement last week from the Canadian Real Estate Association in response to FINTRAC, Canada's anti money-laundering agency, finding financial compliance problems in Vancouver real estate companies. The CREA statement criticized FINTRAC, saying their "

rules show a lack of understanding of the industry."
Comparing CREA's statement and McLeod's letter, Eby said: "There's a consistent theme in the real estate industry's response to what is a public crisis of confidence in the professionalism of the industry, and that is to say: 'Listen, there's nothing to see here … It's all hyperbole in the media.' It's not — people are having really negative experiences with realtors."