Cameroon Town's Residents

Say Chinese-Run Quarry Damaging Their Homes
Reports of adverse social, environmental effects related to Chinese operations follow a trend, experts say
YAOUNDE, Cameroon—Residents of a town in Cameroon are complaining about damage to their homes caused by a nearby quarry that was created by a state-owned Chinese company.
Chinese-owned Sinohydro, which has been commissioned to build part of a 235-mile road in central Cameroon, is using a quarry located close to the town of Yoko to mine ballast stones for paving the road. Residents say that vibrations from the quarry are damaging their homes and practically driving them out.
"My house was never like this—full of cracks—until the Chinese came," Yoko resident Ondobo Jean-Benoit, a retired civil servant, told The Epoch Times. "I no longer feel safe in this house as it can collapse on my family and me at any time, but I have nowhere else to go."
Like Jean-Benoit's house, many other homes and buildings around the quarry are visibly riddled with cracks. Even the newly constructed Yoko Town Council building hasn't been spared.
During a visit to the area in March, Emmanuel Nganou Djoumessi, the minister of public works, instructed the company as well as town authorities to prevent any further degradation to people's homes.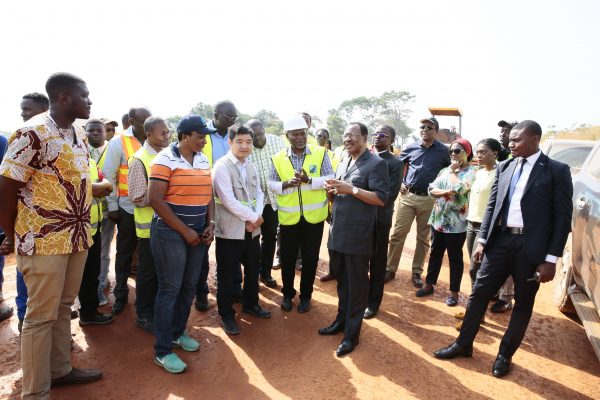 Officials at Sinohydro didn't respond to requests for comment about the situation.
The issue raised in Yoko is one of the many examples of reported adverse environmental and social effects by Chinese companies operating in Cameroon and other parts of Africa.
Residents in a Southwest Kenyan town have raised similar concerns about a Chinese-run quarry near their town, as reported previously by The Epoch Times. Several residents of Mai Mahiu, Kenya, say they were forced from their homes because of the noise and vibrations from the quarry.
Environmental Impacts
As in many African countries, China has been active over the past decade in building infrastructure projects in Cameroon. The projects are often financed by Chinese banks, and most of the work is performed by Chinese companies rather than local firms.
Many of these infrastructure projects are built in fragile ecological zones, raising fears of environmental degradation as the companies often are reported to ignore regulations.
Citing examples of environmental damage by Chinese companies, researcher Dr. Samuel Mvondo said in a report released in April that, "Chinese investments in Cameroon do not appear socially responsible at this stage."
"Indeed, sampled investments are causing negative damage to forest ecosystems and wildlife resources," the report adds.
Concerns
Another issue often cited about Chinese companies' work is the lack of quality, as in many cases, the assets begin to deteriorate soon after construction is completed.
The companies are "out to make maximum profit and the [local] controllers allow them [Chinese] to make more profit and execute their contracts poorly," Tchafack Stephan, a civil engineering and public works specialist, says.
There are also concerns that Chinese staffers of these companies also have been found to violate laws related to endangered wildlife. Examples of violations include illegal collection of fully or partially protected species in areas adjacent to investment sites, including protected areas.
Between 2006 and 2017, authorities made a total of 17 seizures related to violating endangered wildlife laws, in which Chinese nationals were involved, according to statistics from the Last Great Ape Organization and Cameroon's Ministry of Forestry and Wildlife. Examples of trafficked items include ivory, pangolin scales, panther skins, and live or dead primates.
Marc Anselme Kamga, an environmentalist, says the issue of Chinese companies causing environmental damage in Cameroon is serious. "Chinese companies don't normally restore the natural environment as required by law," he said.
In 2017, the Ministry of Environment sanctioned some 390 companies for environmental pollution, including more than 50 Chinese companies. The Epoch Times reached out to many of these companies for comment, but none had responded by press time.
Nguendia François Aurélien, a Yaounde-based historian, says allowing these types of Chinese investments and operations to continue in Cameroon is shortsighted, as many of these projects could cause "long-term handicaps."
"Chinese companies expose Cameroon to great environmental impact in their quest for arable land—especially due to deforestation caused by these companies," Aurélien said.