Chinese Signs In West Vancouver Criticized
A group that has previously criticized Chinese language ads in B.C. is now targeting signs on West Vancouver bus shelters.
Brad Saltzberg, a representative of Putting Canada First, complained to the municipality's council about signs that were not in Canada's official languages, reported the North Shore News.
The ads for real estate agents, financial planning, and food items include English but also feature Chinese. That undermines "traditional English and French Canadian identity," he told the newspaper.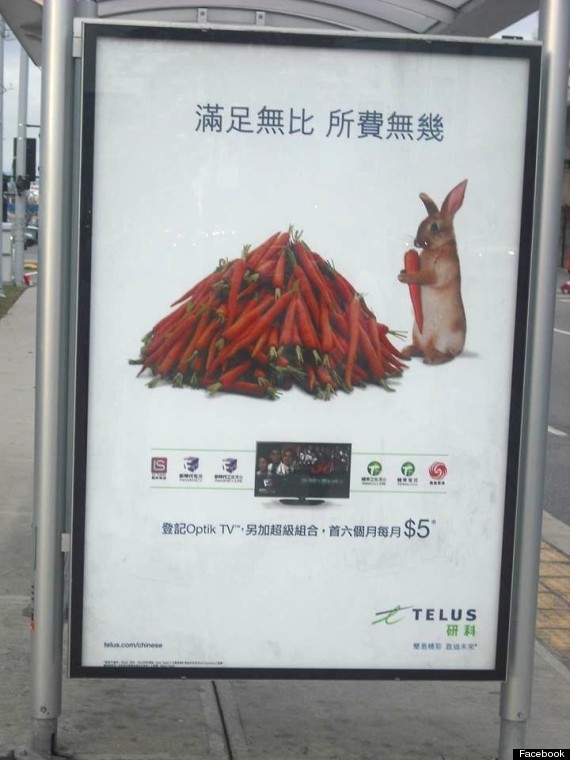 West Vancouver Mayor Michael Smith said he has no issue with advertising in any language.
"Rather than some emblems of our country — our flag, or pictures of Whistler, or Mounties — we are greeted by the Chinese language," he told the South China Morning Post. ""It just doesn't reflect Canadian culture and history."
According to the Facebook page for Putting Canada First, the group wants to attract "reasonable, well-intentioned Canadians to help protect our country from forces eroding our identity in the name of globalism, multiculturalism and unjustified immigration."
The group would like to see B.C. introduce a language law similar to Quebec's Bill 101, which mandates a majority of signs in French, according to the South China Morning Post.
Richmond, the suburb where the airport is located, is a flashpoint for debate overChinese language signage. More than 60 per cent of the city's 200,000 residents are immigrants, the highest rate of any Canadian city.
In March, a bus shelter ad for a social service agency was pulled after pressure led by Richmond resident Kerry Starchuk. The Chinese ad was for a support program for Chinese-speaking people with a gambling addiction.