Why

the bridge to nowhere

in Penticton is actually going somewhere
September 04, 2015 - 4:30 PM
PENTICTON - It's being called a "bridge to nowhere" by some on social media, but developers building the Satikw Bridge at Green Avenue on the Penticton river channel say that's an unfair label for a project which has taken two decades to come to fruition.
Penticton Indian Band Development Corporation's economic development consultant Chris Scott spoke about the band's effort to develop locatee lands across the river channel, in an attempt to put the project into what he feels is the proper perspective.
He's aware of what's being said about the bridge on social media and beyond, and while he feels it's human nature for people to say unkind things about any development, he says people in this case have the wrong idea about why the bridge is being built.
Scott admits he's seen the references to the "bridge to nowhere."
"People are saying 'why are people putting money into a bridge where there is only cows on the other side?'" he says, describing the bridge construction as something which was not imagined and built overnight on a whim.
"For twenty years the band has been seeking resolution to a dispute with the Province of B.C. to provide access to those lands. Last year they settled, and this year we're building, and to say we should already have tenants because we're building a bridge would be optimistic," he says.
Scott sees the building of infrastructure as key to any nation, city or region's long term growth.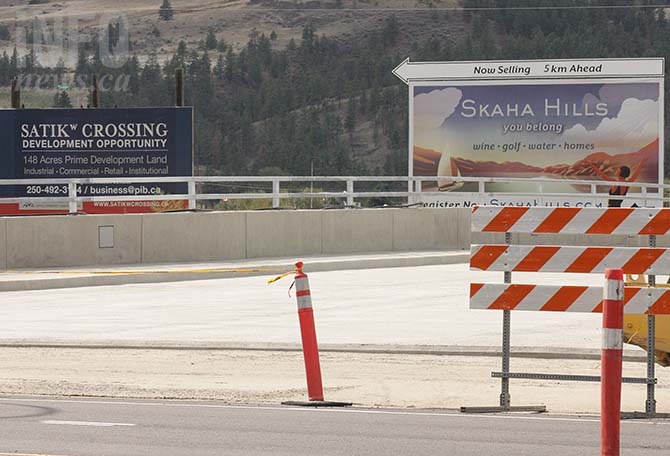 The Satikw Bridge is expected to open up more than one hundred acres of Penticton Indian Band locatee lands for development.
(STEVE ARSTAD /InfoTel Multimedia)
"It's infrastructure that stimulates economic activity," he says. Scott uses for example the Senkulmen Enterprise Industrial Park near Oliver, noting it was the development of the park that landed the Osoyoos band the $200 million dollar Okanagan Correctional Centre.
"That contract would not have been awarded had that project not been shovel ready," he says.
Scott says his previous experience working with the other First Nations bands has opened his eyes to the challenges.
"First Nations have a long journey ahead of them to develop an independent economy. Ninety per cent of the Canadian public have no idea the challenges facing First Nations to develop an economy, not the lease of which is infrastructure," he says.
"When you don't even have a sewer or waterline and it costs you five million dollars to put one in, where do people think the band is going to find five million dollars?" Scott says.

"I believe this project will raise the entire economy of the region. When we have a First Nations as a success story, it is everyone's gain."
Scott says Chief Jonathan Kruger and the band should be applauded for the development work and risk taking they have undertaken so far.
He describes the Penticton Indian Band's bridge development as the means to make the channel lands shovel ready. He is currently working on two very substantial projects but he is not at liberty to discuss them because they are in the negotiation stage. All he will say is they are larger than any capital projects currently underway in Penticton.
The band's master plan for the channel lands has been undergoing changes as the development moves forward, with less emphasis on retail development now and more on residential and commercial property development, he says.
"Those developments will enhance neighbourhood retail opportunities, rather than destination retail," he says, adding the notion of a much desired big box store like a Costco is not going to happen.
"Everybody's asked, 'are you going to put a Costco there?' Well, we'd love to put a Costco there. We've had many developers attempt to put a Costco there. It's not going to happen," he says. "The region does not support a Costco, it's that simple. If we had 150,000 residents in our target market, we'd possibly have a chance, but we don't, we have 80,000, maximum."

Meanwhile, bridge construction is nearing completion.
"We thank the public for their patience for having to close Green Avenue. We know people have been grumpy about that, and there will be a few more closures, but they will be coming to an end by September 24," Scott says.
Traffic signals at the intersection will be up and running on by Sept. 30.
To contact the reporter for this story, email Steve Arstad at sarstad@infonews.ca or call 250-488-3065. To contact the editor, email mjones@infonews.ca or call 250-718-2724.