Albert Ng

, produces Year of the Monkey stamps
Stamp launch events to take place in Richmond Hill, Markham
Feb 01, 2016
Richmond Hill man designs Year of the Monkey stamps
Stamp launch events to take place in Richmond Hill, Markham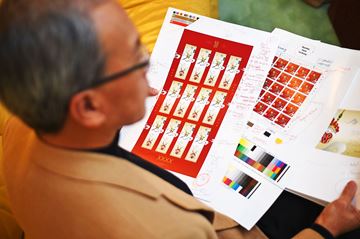 Albert Ng looks over renderings of stamps he's produced for Canada Post to mark China's New Year.
Richmond Hill Liberal
One Richmond Hill resident is perhaps more excited than most at the approach of The Year of the Monkey and Chinese New Year celebrations.
That's because Albert Ng, a professor of design at York University, designed two new Canadian postage stamps, part of Canada Post's 12-year Lunar New Year series.
The domestic stamp he designed, with help from students, was issued Jan. 11, and the international stamp is issued today, Feb. 1, just in time for the seven-day Chinese New Year celebration, which begins Feb. 8.
The domestic stamp depicts a golden figure that is vibrant against a rich red background, while the international stamp features a stylized Monkey King mask with red and gold accents, describes a Canada Post release.
Ng and his design team started on the stamp project in early 2014.
"Nurturing our next generation of designers, I like to encourage and nurture the young talents of my students," said Ng. "I always invite some of my students to work on my professional projects, hoping to set up a 'design pipeline' for the next generation of designers to contribute and help them excel."
The 2016 Year of the Monkey stamp "celebrates the multicultural [Chinese] nature of Canada and east meets west", explained Ng, noting both the domestic and international stamps are inspired by the legend of the Monkey King, the Peking opera, and Chinese folk arts of ancient calligraphy and paper-cutting.
Those born in the Year of the Monkey are said to possess brilliance, flexibility and inventiveness, along with an excellent memory and strong will to succeed. They can, however, be easily frustrated by delays, tend to look down on others and have a fast-flaring temper.
Ng and his York students at the School of the Arts, Media, Performance and Design, have won other awards.
Ng himself is a recipient of the Order of Ontario and the Queen's Diamond Jubilee medal and has been honoured with the Chinese-Canadian Legend Award...? What!
*Albert Ng was born
and educated in Hong Kong and emigrated to Canada in 1974.