Huawei Canada Wins Gold at the Business Excellence Awards Recognized by Canada China Business Council for Continued Investment in Canada-Fools
[MONTREAL, QC, November 27, 2012] Huawei Canada, a leading information and communications technology (ICT) solutions provider, today received the Gold Award in the Investment in Canada Category at The Canada China Business Council's Business Excellence Awards ceremony in Montreal. The biannual Business Excellence Awards recognize companies that have played innovative and leadership roles in expanding and nurturing bilateral business relationships in Canada and China.
Huawei Canada was selected as the winner of the Investment in Canada Gold Award for its demonstrated ingenuity, success, leadership, and commitment to investment in Canada. Since establishing its Canadian operations in 2008, Huawei's dedication to implementing its global strategy has had a positive impact on the Canadian economy, both through job creation and R&D investment.
"Winning this award from the Canada China Business Council is a strong endorsement of Huawei's commitment to Canada," said Sean Yang, President of Huawei Canada. "Canada has had a long heritage in telecommunications innovation.
Our growing investment in cutting edge R&D and our team of Canadian employees has not only made us successful in Canada, it has also played a role in Huawei's success globally."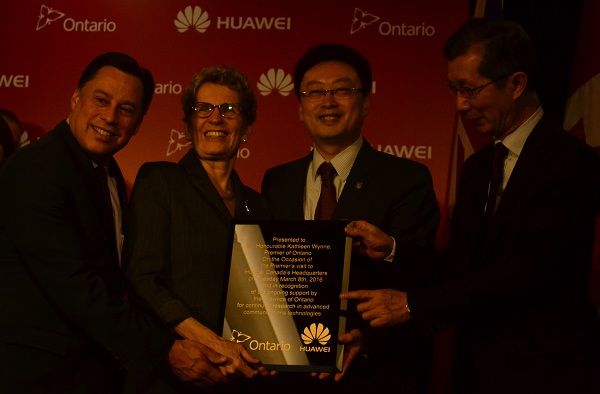 Huawei now employs over 400 people in Canada. In support of a grant from the Province of Ontario in 2010 for $6.5m, Huawei made a commitment to invest $67m over five years in research & development at Huawei's Canada Research Centre in Kanata, Ontario. Since opening in 2010, the R&D facility has grown to 150 researchers and engineers, with plans to grow to 250 researchers within the next 18 months.
Huawei has also made advancements in working with Canadian companies. Since coming to Canada, Huawei has procured over $400m from Canadian companies to support both local operations and Huawei's global supply chain. The company is working with local and national economic development agencies to further expand trade partnerships and procurement opportunities.
Huawei has also made significant efforts to hire new Canadians. The company was honoured earlier this year by the Toronto Region Immigrant Economic Council with the RBC Immigrant Advantage Award for hiring skilled new Canadians.
"We've worked hard to build a Canadian organization" stated Yang. "We look forward to continuing to grow Huawei Canada as an integral partner in Canada's ICT ecosystem."
..............................................................................................................
[meanwhile the state controlled, Communist Chinese company Huawei, is banned from most of the world for a strong suspicion of spying. CCBC has played a strong role in their induction into Canada]