October 12, 2016 | Last Updated: October 12, 2016
Richmond MP

has law firm

website changed

after ethical questions asked

SAM COOPER
(Vancouver Sun)
Published: October 12, 2016
A Vancouver law firm that bears the name of Richmond MP Joe Peschisolido has removed from the firm's website "inaccurate information about his level of involvement" with the firm, and photos of Peschisolido posing with Prime Minister Justin Trudeau.
Until last week, Peschisolido & Chung Law Corporation advertised that it is a Sino-Canadian business that provides foreign direct investment services for Asian companies seeking to "establish a presence in Canada," and services for the B.C. provincial nominee immigrant investor program.
The firm is directed by Vivian Chung. Chung is a former employee of Peschisolido and Company, the Richmond law firm for which Peschisolido is the sole director.
Until last week, the website of Peschisolido & Chung Law Corporation prominently featured various pictures of Peschisolido, a lawyer who also served as MP for Richmond from 2000 to 2004, including one in which he stands arm-in-arm with Prime Minister Justin Trudeau, and one in which he is riding a bus with Trudeau.
The pictures were a problem because they "can create, with members of the Chinese community, the impression that there might be preferential access to the prime minister," a York University law professor, Richard Leblanc, said in an interview Wednesday. "The optics are just not good."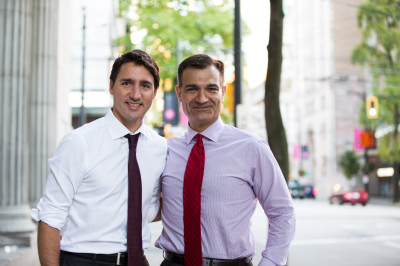 The Peschisolido & Chung website advertised that "we will act as your legal interface between service providers and government bodies."
Directly under a picture of Peschisolido embracing Trudeau, the website said "we partner with you in all stages of your business development in B.C. Canada from start to finish."
Under the photo of Trudeau and Peschisolido riding public transit, the firm advertised "we will provide you access to the leading Canadian subject matter experts and industry associations."
Last week, Postmedia contacted the Liberal Party of Canada to ask questions about Peschisolido & Chung's advertisements featuring photos of Peschisolido and Trudeau.
"Mr. Peschisolido has fully complied with the conflict of interest code for members of the House of Commons," his spokeswoman, Olivia Tam, wrote in an email. "Mr. Peschisolido is not actively involved with the firm while serving as a member of Parliament."
According to Tam, after Postmedia contacted the federal Liberals, "Peschisolido became aware this week that some of his campaign photos were being inappropriately used on the site, and that the site included factually inaccurate information about his level of involvement currently and since the (2015) campaign."
Tam said that Peschisolido "asked the firm to remove that content immediately … (and) will be taking further steps to ensure that this does not occur again in the future."
Peschisolido was not made available to directly answer questions about his level of involvement with the firm.
Corporate records show that Vivian Chung is the firm's director. Chung did not return a call for comment on Wednesday.
According to Chung's LinkedIn profile, she is a former employee of Peschisolido and Company. Peschisolido is the sole director of Peschisolido and Company, corporate records show.
"It is always a wise practice for an elected member of any office … to discontinue all private directorships and memberships in outside professional service firms, such as a law firm," said Leblanc, associate professor of law, governance and ethics. "This is for the reason that it creates a perceived conflict of interest. For example, a continued association or membership with a private firm could infer to a reasonable person that somehow the government might be part of the firm or has endorsed the firm."
Peschisolido and Company has been sued by a number of Chinese immigrant investors who allege Peschisolido failed in his legal duty to ensure that funds transferred by them into a Peschisolido and Company legal trust were placed in a promised recycling plant investment. Instead, three civil claims allege, the funds were diverted to the personal accounts of Paul Oei, who is also facing action by the B.C. Securities Commission.
Peschisolido and Company deny wrongdoing in the cases.
Meanwhile, expense records show that Peschisolido's 2015 campaign paid $10,900 for office rental space to a Richmond currency exchange firm that was fined in 2013 for committing four violations under Canada's anti-money laundering laws.
"Mr. Peschisolido, his campaign, and the Liberal Party of Canada were not aware of any administrative penalties that had been imposed upon the landlord company for this campaign office rental," party spokesman Braeden Caley said in a statement.