Canada to apply to join China-led AIIB, leaving Japan as sole US ally to remain non-member
Wednesday, 31 August, 2016
"Canada is always looking for ways to create hope and opportunity for our middle class as well as for people around the world. Membership in the AIIB is an opportunity to do just that," Canadian Finance Minister Bill Morneau said in a statement issued in Beijing on Wednesday.
The announcement comes as Canadian Prime Minister Justin Trudeau visits Beijing on his first official trip to China. Trudeau met President Xi Jinping on Wednesday afternoon.
President Xi Jinping welcomed Canada's joining the lender in his talks with Trudeau on Wednesday, saying China was willing to expand cooperation with Canada in energy and finance.
The United States has previously expressed reservations about the AIIB and a reluctance to apply for membership.
Washington is concerned the AIIB will undercut the World Bank, in which it has the greatest clout, as well as the Asian Development Bank, of which it is the largest shareholder after Japan.
But its long-time partners and major allies – including Britain, Germany, France, Australia and South Korea – have one after another applied to join the new financial institution despite US pressure.
Japan is now its only ally that has yet to apply to join the AIIB.
Ruan Zongze, Vice-President of the China Institute of International Studies, said Canada's move had shown that it could act independently of the US.
Huang Wei, an analyst at the Institute of World Economics and Politics at the Chinese Academy of Social Sciences, said joining the AIIB might not bring immediate economic benefits to Canada, and was largely a gesture to recognise the potential of the bank.
Canada's gross domestic product expanded just 1.2 per cent last year, and observers have said it needed to diversity its trade and be less reliant on the US.
"With China likely to become the world's largest economy in this or the next Trudeau term, it is in our long-term interests to deepen the economic relationship," said Wendy Dobson, a former Canadian finance official.
Meanwhile, Trudeau, speaking at a joint press conference with Premier Li Keqiang on Wednesday morning, said Beijing had agreed not to impose new restrictions on canola imported from Canada after their meeting.
Lobbying China not to impose a new standard for canola imports, which threatens C$2 billion (HK$11.9 billion) in business, has topped Trudeau's agenda for his first official trip to Beijing.
"We will be able to continue with the current regime on canola and we will work together very closely towards long term solutions," Trudeau said.
Beijing originally set a September 1 deadline for Canadian producers to tighten their screening of canola oil exports to China, saying it wanted to prevent the spread of blackleg disease – an infectious bacterial disease – from Canada to China's crops.
The proposed new standard would have limited the amount of foreign matter allowed in shipments to 1 per cent, down from the current 2.5 per cent.
When Trudeau met Chinese entrepreneurs in Beijing on Tuesday, he assured them that Canadian agricultural products were safe.
It is rare for Chinese leaders to comment publicly on such sensitive cases.
China indicted Garratt in January on charges of spying and stealing state secrets after he was detained in August 2014 near China's border with North Korea.
Trudeau told reporters, "Every time I have the opportunity to sit down with the Chinese leadership, I have highlighted a number of consular cases including the Kevin Garratt case."
In a response to Trudeau and Li's remarks at the press conference, the Garratt family said it was "extremely frustrated and disappointed by the lack of progress in securing Kevin Garratt's release from detention".
They asked both governments to work to allow Garratt to exit China and obtain "critically needed medical treatment", and to return to his family.
In opening remarks during his meeting with Li on Wednesday morning, Trudeau had told the media that he was "enthusiastic" about strengthening ties with China.
After the meeting, the Canadian prime minister said the two countries would set up a regular communication system "of the highest level" on a range of issues including national security and the rule of law.
Such mechanisms would facilitate communication between China and Canada's prime ministers, foreign ministers and national security departments.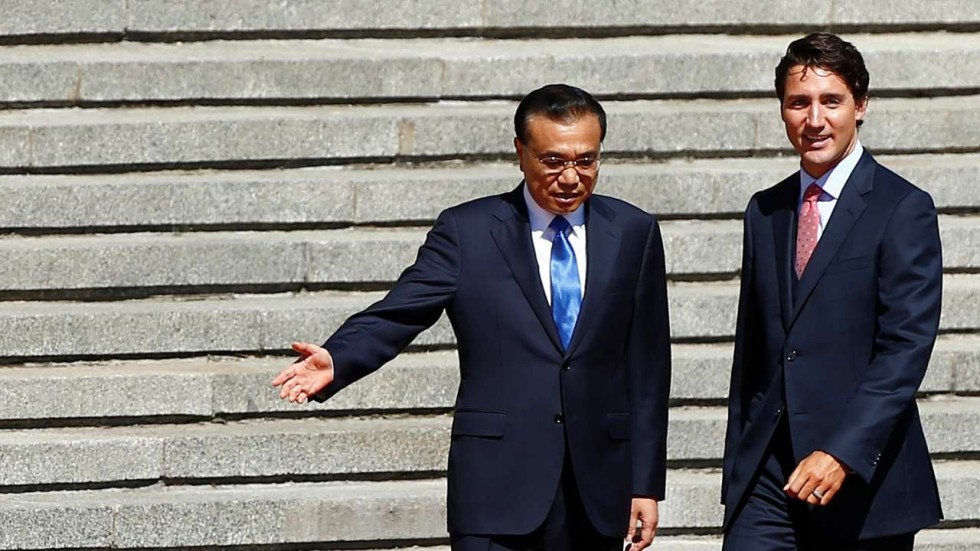 idiot boy "PooDeau" walks into the trap, gleefully...