Australian anxiety over

China's South Pacific aid efforts

is misplaced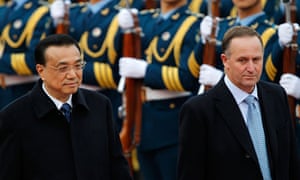 Between 2006 and 2011, China provided US$850m in bilateral aid to the eight countries in the South Pacific with which it has diplomatic relations. Chinese aid is visible, and highly valued for its responsiveness, flexibility, and focus on priority projects and sectors.
China's emergence as a donor is also being exploited by Pacific leaders who are becoming more vocal about their relationships with the country and hinting that Australia is perhaps no longer the partner of choice. They also trumpet China's generosity to try to squeeze more financial support or more flexibility from traditional partners.
For Australia, China's development assistance should be viewed not as a threat, but as an opportunity. Australia's dominance in the region means it is in a strong position to work with China, for the sake of good development outcomes and to strengthen its bilateral relationship with Asia's rising power.
Australia's might in the region puts it in pole position to work with Asia's rising power for the sake of good development results
This co-operation also offers value in terms of the Australia-China bilateral relationship. Unlike in other parts of the world where China has complicated relationships with regional powers, the Pacific Islands offers a low-risk, relatively straightforward case for co-operation. Australia and China have a healthy but largely transactional relationship focused on trade, so collaborating in a region where they share common interests could add real substance to bilateral ties between the two countries.
Australia's dominance of the South Pacific region may be challenged by China, but it is not going to be overtaken by it. And in an era when almost everything China does on the world stage is viewed with some suspicion, there is an opportunity to build constructive co-operation with the Chinese that will serve everyone's interests, including those of developing countries in the region.