Cold comfort:

Hong Kong's most vulnerable people

forced to stay outside in bone-chilling weather
Many homeless unable to get into cold shelters, which only open in evenings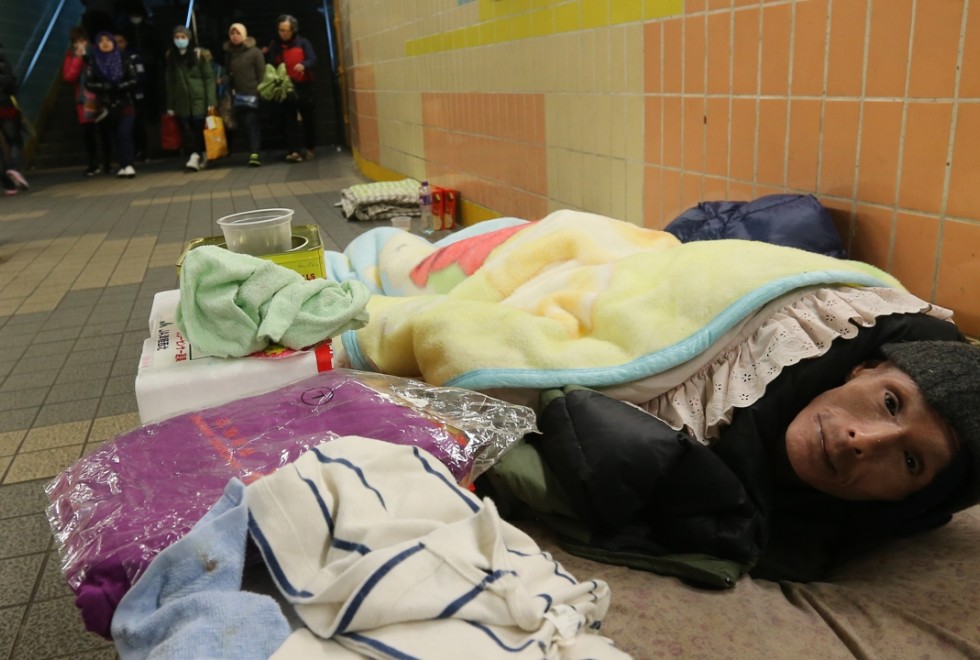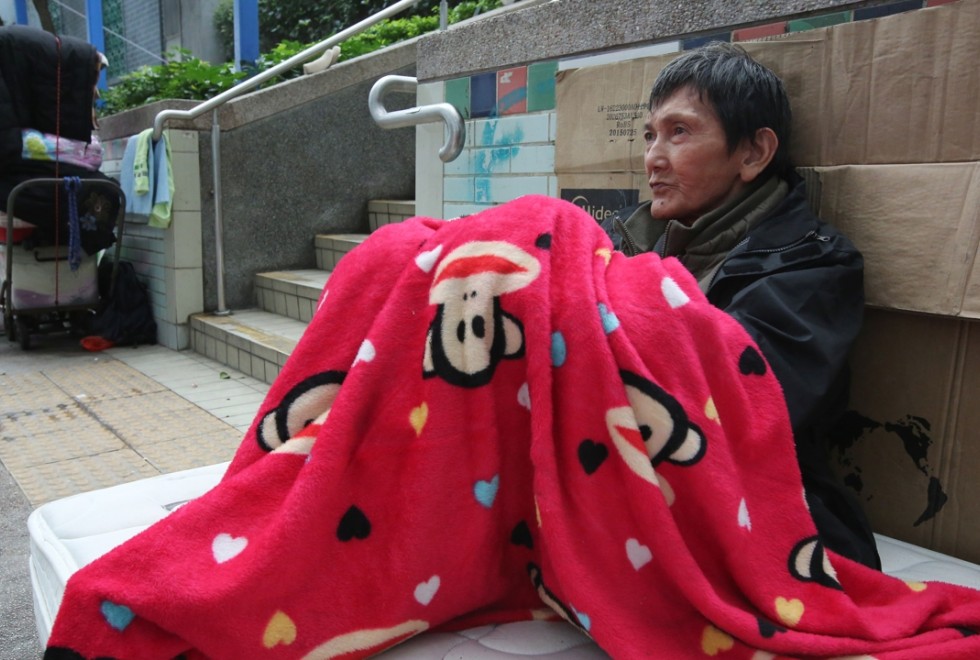 As the city wrapped up in the worst bone-chilling weather in 59 years, people from the city's most vulnerable communities were forced to brave the miserable weather in cold, damp streets for most of Sunday.
Many homeless people were shut out of government shelters, which only open in the evening to the next morning.
Meanwhile, tens of thousands of overseas maids, who would otherwise have nowhere else to go on their regular day off, shivered in parks, and under flyovers and footbridges.
In Sham Shui Po, where the mercury dropped to as low as 2.9 degrees Celsius during daytime, street sleepers sought reprieve in a subway, tucking underneath layers of blankets and curling up against the mosaic-tiled wall.
One of them, a Mr Koo, idled away his time watching passers-by in woollen hats, parkas or windcheaters hurry through the subway. "I cover myself with whatever I have," said 45-year-old Koo, who was wearing three layers of pants.
Koo took to sheltering in the same subway months ago after finding his daily wage of up to HK$350 as a cleaner, and sometimes a site worker, was not enough to support him in a proper home.
On Sunday night, the Home Affairs Department opened 17 temporary shelters for people seeking respite from the bitter cold. But the shelters only remain open until 8.30am on Monday.
Ng Wai-tung, a veteran in helping street sleepers at the Society for Community Organisation, said some homeless people shied away from government shelters because they feared their belongings might be stolen or that they might not get along well with others seeking temporary refuge.
"The government system is very rigid. The centres do not run 24 hours a day. Heaters are not always on. And the locations are sometimes not convenient. They do not really answer to the needs of the homeless," said Ng.
The number of homeless in Hong Kong has almost tripled in the last decade, from about 600 in 2004 to 1,514 last October, according to a recent survey by volunteers from nine universities and non-government organisations.
In Causeway Bay, hundreds of domestic helpers from Indonesia shivered outdoors on their Sunday day off.
Dressed in three layers of clothes, Sary Ani, 34, wrapped herself up in a blanket on a footbridge on Yee Wo Street while huddling with fellow domestic helper friends.
"I never see weather like this," said Ani, "All my friends are here. We are here every week and we don't have anywhere else to go."
Another domestic helper, Maesarah, played badminton with her friends in Victoria Park to keep warm. "It is really cold. My hands are like ice, but we don't have any place to go," said Maesarah, from the island of Lombok.
Doctors warned of the dangers of being exposed to cold weather for too long.
Dr Li Sum-wo said: "Hypothermia usually happens after long exposure to cold temperature. Low body temperature can slow brain activity, breathing and heart rate."
The elderly and babies are particularly vulnerable. "It may be helpful to wear a hat or other covering to prevent body heat from escaping from your head, face and neck," said Dr Li.
In the 24 hours up to 5pm on Sunday, a total of 43 people sought medical treatment at the accident and emergency units at public hospitals because of hypothermia.
At the Senior Citizen Home Safety Association, a total of 1,418 calls for assistance were received as of 5pm. Of the cases, 92 needed hospitalisation, mainly because of respiratory problem and pains.
Temperatures as low as 3.1 degrees were was recorded around 4pm on Sunday at the Observatory in Tsim Sha Tsui. It was a record low since February 11, 1957, when the temperature dropped to 2.4 degrees.
Weather was expected to remain very cold and windy on Monday, with temperatures ranging between three and nine degrees. It will remain cold for a day or two.
The government on Sunday announced a one-day suspension on Monday of classes at kindergartens, primary schools and special schools today because of the cold weather. "These schools should keep their premises open and implement contingency measures to look after arriving students," said the Education Bureau.
The Professional Teachers Union also asked the government to announce class suspensions for Tuesday as well.
"The majority of schools do not have heaters installed to cope with severe cold weather. Many teachers and parents are worried that little children and those with special needs could not adapt to the cold environment and could fall sick," said the union in a statement.
It also called on the authorities to issue guidelines on arrangements for teachers and students attending schools during cold weather.
"When I woke up, my tent was all covered in ice" - Hailey Chan Ka-hei, 22, 'frost chaser' and camper
"Everything was frozen up there, even the roads," - Danny Yip, 23, hiker
"It's too cold. Even if I wore more clothes it would still be unbearable" - Hong Kong 100 trail race participant
"We wanted to experience this rare weather condition...it's not a place for a family to go picnicking" - Ryan Shiu, 'frost chaser'
"It was like going down a slide" - Brian Kwok Chun-hey, university student and 'frost chaser'