China's aggression over South China Sea

exposes rift between Obama, top Navy advisers
Provocations cast pall over Komodo 2016 international naval exercise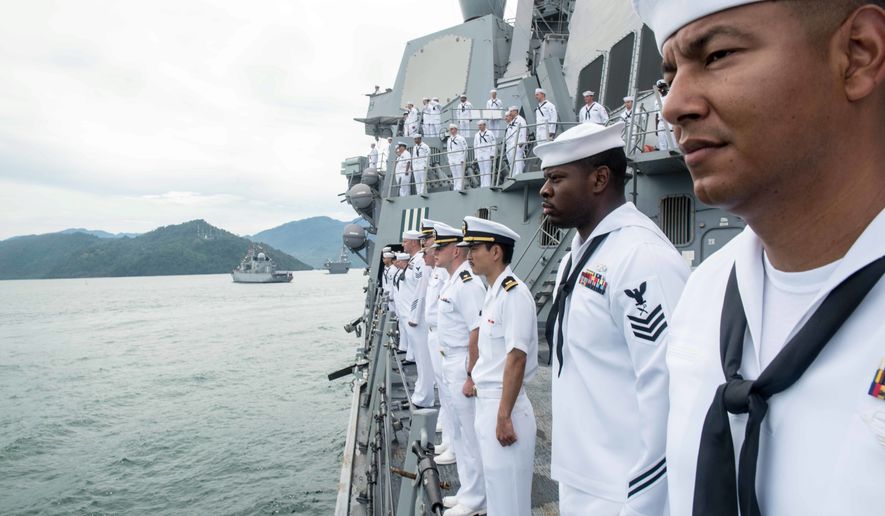 Sailors aboard the USS Stockdale were among the U.S.-deployed assets taking part in the Multilateral Naval Exercise Komodo, initiated in 2014 by the U.S. and Indonesia. (U.S. Navy)
more >
Escalating tensions over China's aggressive territorial claims in the South China Sea are casting a heavy pall over major international naval exercises underway in the Pacific, exposing what some analysts say is a growing rift between President Obama and his top naval advisers over how to repulse Beijing's provocations in one of the world's busiest sea lanes.
The Komodo 2016 naval gathering is supposed to be for feel-good exercises. Ships from the U.S., China and nearly three dozen other nations come together to practice maritime cooperation to prepare for natural disasters such as the 2004 tsunami blamed for more than 230,000 deaths.
But geopolitics and the South China Sea dispute are threatening to overshadow the exercises' original purpose.
---
Chinese officials have complained in recent days about rival Japan's plans to send a 3,950-ton Hyuga-class helicopter destroyer through contested waters of the South China Sea to join the exercises and condemned a statement from the foreign ministers of the Group of Seven meeting in Japan this week that expressed their "strong opposition to any intimidating, coercive or provocative unilateral actions" in the waterway — a clear warning to Beijing.
Chinese Foreign Ministry spokesman Liu Kang accused the G-7 diplomats of "hyping up maritime issues and fueling tensions in the region."
"We urge G-7 members to abide by their promise of not taking sides on territorial disputes, respect the efforts by regional countries, stop all irresponsible words and actions and make constructive contribution to regional peace and stability."
---
---
Tensions went up once more Thursday when Defense Secretary Ashton Carter, on a visit to Manila, revealed the Pentagon's plans to send troops and combat aircraft to the Philippines for regular, more frequent rotations, along with plans to conduct more joint sea and air patrols with Philippine forces in the South China Sea.
China has long feuded with the U.S. and its own neighbors — including the Philippines, Vietnam, Taiwan, Malaysia and Indonesia — over its expansive sovereignty claims in the South China Sea. Beijing's steady buildup of facilities and forces on artificial islands it has created in the sea have only increased the tensions.
With U.S. presidents traditionally reluctant to confront China in their final months in office, the Komodo exercises are also shining a spotlight on what some say is the growing divide between the Obama White House and the Pentagon over the South China Sea incursions.
In a much-discussed article, the Navy Times this month said Mr. Obama and his top aides were rejecting pleas from U.S. Pacific Command chief Adm. Harry Harris for a much more hawkish approach to China's South China Sea moves, including "military operations as part of an effort to stop what [Adm. Harris] has called the 'Great Wall of Sand' before it extends within 140 miles from the Philippines' capital."
Susan E. Rice, Mr. Obama's national security adviser, was said to have imposed a "gag order" on Adm. Harris and other senior military officials on this issue ahead of the president's nuclear security summit late last month, when Mr. Obama held a private meeting with Chinese President Xi Jinping.
The report, citing unidentified officials, sparked so much comment that the Pentagon issued an unusual public denial April 6 that the military commanders on China's South China Sea moves were being censored.
"We are confident that [the military commanders'] counsel has been considered and valued," Pentagon press secretary Peter Cook told reporters.
"To be clear," he said, "there has never been a 'gag order,' as described by anonymous officials in the article and any assertion that there is a disconnect between U.S. Pacific Command and the White House is simply not true."
Mr. Obama's softly-softly approach has found support among some military analysts, who say Beijing's power moves are leaving it isolated and vulnerable to challenges under international law.
The Komodo exercises could be "an opportunity for naval personnel to get together and discuss their concerns publicly or privately about regional stability," said Natalie Sambhi, a research fellow at the Perth USAsia Center.
The Multilateral Naval Exercise Komodo was initiated in 2014 by the U.S. and Indonesia — haunted by memories of shortcomings and lack of coordination in the regional response to the horrendous 2004 tsunami — to improve relief efforts by the 10 members of the Association of Southeast Asian Nations (ASEAN) and other regional partners, including Australia, Japan, South Korea and Russia.
This year's Komodo exercises were launched Tuesday morning from Padang with 48 ships taking part in maneuvers around the Mentawai Islands in West Sumatra.
Among them are U.S.-deployed assets from the USS Stockdale, Seabees from Naval Mobile Construction Battalion 4, Patrol Squadron 8 and Destroyer Squadron 7, and staff from Singapore-based Task Force 73.
The region was shocked a year ago by satellite photos revealing the extent of Chinese island-building in the Paracels and was jolted again in February when surface-to-air missiles were discovered there as ASEAN leaders were sitting down for a meeting with Mr. Obama in California.
The Komodo drills will coincide with the biennial Western Pacific Naval Symposium, which produced the Code for Unplanned Encounters at Sea between the U.S. and Chinese navies, credited with ensuring safe passage to date through international waters.
"It's important that the U.S. as well as other ASEAN-plus actors like Japan, India, Russia and France be included in this to demonstrate a stake in regional peace, a willingness to work with and support ASEAN partners and to counterbalance China," Ms. Sambhi said.
"It also underscores the U.S. commitment as part of its rebalance strategy and reflects the reality that the U.S. plays a key role in the Western Pacific and even the Indian Ocean."
Gavin Greenwood, a regional security analyst with Allan & Associates, said the real danger lies in a potential miscalculation between the militaries jostling for advantage in a dense neighborhood.
"There's no human agency because it's all too quick, and these things are designed to shoot down a cruise missile. How you manage an incident is absolutely crucial nowadays."
This week's exercises, Mr. Greenwood said, could help reduce tensions.
"Komodo gives them a discreet opportunity — no grandstanding. It's something they can do quietly. It's not political, it's technical, it's between sailors, it's about resolving an incident before it becomes a crisis," he said.
The exercises end Saturday.